Friday, November 18, 2011
Friday Haiku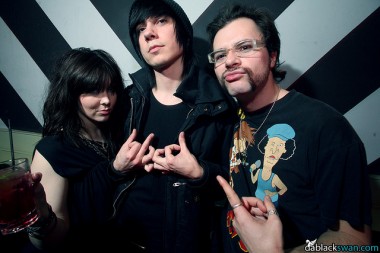 Kate fights the Power;
But Bruce and Jeff just want to
Occupy Ball-Meat.
Spelling "blood" with hands
Is from Compton, Sir Lilly-White
Not Danville, you douche
— saulgoode42
Nancy Dreuche poses
With brothers Emo and
Emo. Uterus sags.
— The Reverend Chad Kroeger
Tommy pays the price
For fingering the goth skank.
Yeast infected hands.
— hermit
Twi-tards get in line
early for latest Twilight
trash. All on Team Douche.
— Dr. Bunsen HoneyDouche
You have Beiber hair,
and flash gang signs, but the
A/V club is lame
— Ferris
Nepos nepos nep
Nepos nepos nepos *nep*
Nepos nepos nep
— Nancy Dreuche
We're misunderstood!
'Cuz we're deep, and dark, and hurt
Black is the new blah.
— Mr. Scrotato Head
Pixies cover band.
Backstage yields sanctuary.
Thrown beer bottles hurt.
— Baron Von Goolo
"Dad! Christmas portraits
are cheesy!", whines the spawn of
Baron Von Goolo