Friday, November 11, 2011
Friday Thoughts and Links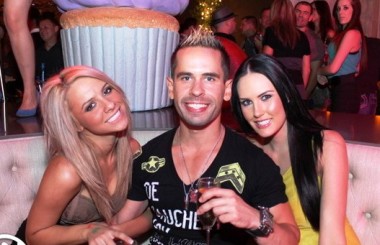 Douche-Neck shirts.
Still out there. Still a harbinger of stupid hair, chest shave, and the apocalypse of tainting Jenny and Kelly's perfect globbs.
Your humble narrator muses on the power of herd mentality to drive the masses to stupidity, and is appalled and bemused simultaneously. We flatter ourselves with thoughts of individualism.
But we are simply crumbs on the cone nose of a Carvel Cookie Puss.
Here's your links:
Your HCwDB DVD Pick of the Week: " I tell you what we're gonna do, Marlboro. You're gonna take that goddamn J.C. Penney tie off and we're gonna have an old fashioned man to man drinking party."
HCwDB televisual mock continues to spread with Britain's hit show"The Only Way is Essex."
'Bag hunters fight back: Petition to keep Nickelback from playing halftime show gains support. Don't forget to sign the petitition!
Raging ass pimple on the butt cheek of society, the retched "Nik Ritchie," who writes HCwDB ripoff site "The Dirty," managed to keep his desperate clinging to Z-List fame alive by going on Anderson Cooper to talk about his defamation case. Back when that clown launched "Dirty Scottsdale" after being inspired by HCwDB, he used to beg me for links to his crap. And look at him now. What a hero.
Scientists identify World's Sexiest Dance Moves. Sadly, White Man's Overbite not included.
Since I got all reflective earlier in the week looking back at 2007's Why Jeffy is 'Bag, here's another nostalgic look back The Oompa Prompa Photoshop Contest. Back in 2008. Like another universe.
Remember that cute Jerry McGuire kid? Now he likes to work out. You had me at "Too Much Time On Your Hands."
Apparently he hasn't been using his time to earn an Online-MBA. (Resource Link)
Ubiquitous Red Cup for sale. No sign if John Mayerbag is thinking of making a bid.
Ever wonder what happens when a sexytime threesome goes wrong? For one Florida douchebag, it involves throwing a TV at his wife and ending up in jail.
Okay, you've been good. You've earned it:
For the twilight is 'ere and the November rain means Axl Rose shivers.