Saturday, November 5, 2011
The Douchies Begin December 5th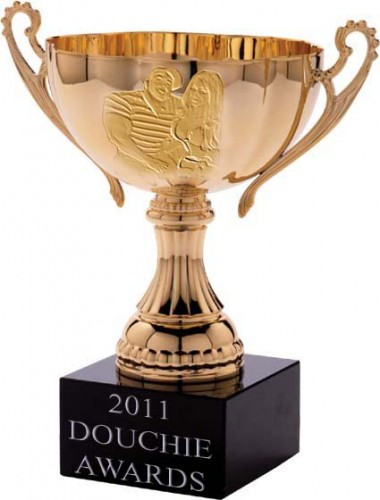 Be there. Or be this guy.
For those who've volunteered for this noble service, I salute you.
If you see your name below, you're in charge of giving out that Douchie Award.
Write up a 2-3 paragraph summary of why the award is deserving, and email to your humble narrator by December 1st, along with 3-4 links to your runners-up.
Douchiest Douche-Face — Douchey Wallnuts
Most Annoying Rockerbag — CB Popped
Comment of the Year — Wheezer
Quartasians and Trannys — Douchble Helix
Douchiest Hand Gesture — tall guy
The John Largeman — Et Tu Douche?
Douchiest 'Bag Who May Be a Lesbian In Drag — Wedgie
Most Trashcan to the Head Worthy — Medusa Oblongata
Douchiest Creature From Ancient Greek Myth — Jacques Doucheteau
The Douchebaguette — Mr. Scrotato Head
Most Euro Eurobags — Reverend Chad Kroeger
Smells Like Poo — Creature
'Celebrity' HCwDB Couple of the Year — Vin Douchal
Most Annoying 'Bagling — Nancy Dreusche
The Ricky — Mr. White
Hottest Librarian Hott — The Dude
Greatest Crisis of Modernity — Hermit
Douchiest 'Athlete' — Bob McAdouche
Hottest Girl Next Door Hott — Douche Equis
Clearest Proof of Natural Selection — DarkSock
Most Expensive First Date Hott — Dr. Bunsen HoneyDouche
The Yellowtail (Oldbag) — Mandouchian Candidate
Douchiest 'Bag Trend — Mr. Scrotato Head
Greasiest Grease Stain — MusicFanatic
Douchiest Hair — dbBen
Douchiest Facial Fung — Douche Springsteen
Still to be claimed if ya wanna participate (just claim it in this comments thread):
—-
I'll, of course, be handing out the rest.
A grateful nation salutes you.
And props to scholar and learned thespian Medusa Oblongata for designing our 2011 trophy. The 2011 Douchies be on. They most certainly be on.
EDIT: Updated the list.