Saturday, November 19, 2011
The Judges Get Ready for the 2011 Douchie Awards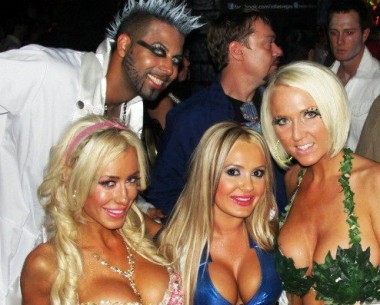 The following regs will be handing out awards at our all-star gala 2011 Douchie Awards ceremony, beginning December 5th:
Douchiest Douche-Face — Douchey Wallnuts
Most Annoying Rockerbag — CB Popped
Comment of the Year — Wheezer
Quartasians and Trannys — Douchble Helix
Douchiest Hand Gesture — tall guy
The John Largeman — Et Tu Douche?
Douchiest 'Bag Who May Be a Lesbian In Drag — Wedgie
Most Trashcan to the Head Worthy — Medusa Oblongata
Douchiest Creature From Ancient Greek Myth — Jacques Doucheteau
The Douchebaguette — Mr. Scrotato Head
Most Euro Eurobags — Reverend Chad Kroeger
Smells Like Poo — Creature
'Celebrity' HCwDB Couple of the Year — Vin Douchal
Most Annoying 'Bagling — Nancy Dreusche
The Ricky — Mr. White
Hottest Librarian Hott — The Dude
Greatest Crisis of Modernity — Hermit
Douchiest 'Athlete' — Bob McAdouche
Hottest Girl Next Door Hott — Douche Equis
Clearest Proof of Natural Selection — DarkSock
Most Expensive First Date Hott — Dr. Bunsen HoneyDouche
The Yellowtail (Oldbag) — Mandouchian Candidate
Douchiest 'Bag Trend — Mr. Scrotato Head
Greasiest Grease Stain — MusicFanatic
Douchiest Hair — dbBen
Douchiest Facial Fung — Douche Springsteen
Be sure to email me your winner(loser), as well as 3-4 runners up, along with your 2-3 paragraph writeup by DEcember 1st, so your lazy-ass narrator can put it all togethers.
Lets do this thing.