Sunday, December 18, 2011
"Celebrity" HCwDB of the Year: Nick Cannon and Mariah Carey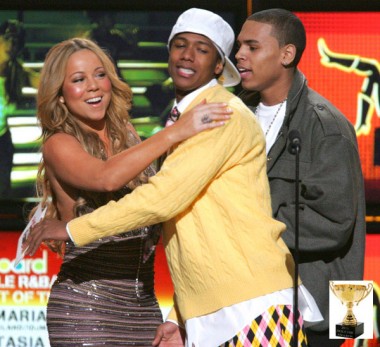 Vin Douchal hands out the 2011 Douchie Award for douchiest Celebrity Coupling of the Year:
——
After playing an hour of "Ignite People On Fire" online while zonked on Vicodin I realized there will be no appearance by any of the Kardashians to victimize so I exited.
This led me to some investigating into the year past for "The Douchiest Celebrity Couple".
Sure "The Bieber" was front and center. Ashton Kutcher gave up the hottest piece of ass in Hollywood for a night with a Woo Girl. And even though the vitriol spewed here for Russell Brand and Katy Perry has been absolutely toxic, I kind of like each of them individually.
No this year there is a certain couple that has become an infested boil on our consciousness in a subtle, yet effective, way kind of like leaning to the side while sit-farting to silence it but the stench still permeates.
I speak of Nick Cannon and Mariah Carey
Theirs is a romance of stepping in poo not once but with both shoes. Sure, when Mariah first hit the scene umpteen years ago her talent was evident. I distinctly remember the photo on my daughter's cd . Mariah with her tousled hair, perfect full body pose seductively profiled holding a microphone stand . Since then she has insultingly called her fans, "lambs" and her material tanked once ex-Tommy Mattola ( he of the nuclear precision ability to spike an artist's career arc) rid himself of her brand of lunacy.
Cannon ruined the kids show, "All That", on the Nickelodeon Network. Some talented young people went to careers after this show. Keenan and Kel, Amanda Bynes, comedian Gabriel Inglesias are the most notable. As they left, the replacements were brought in. The show came to a screeching halt whenever replacement Nick Cannon was on the screen.
Such horrible sketches as "Sweaty Spice" , who was one of the Spice Girls, "Latanya", a mini-mart cashier and the worst but aptly named, "Boring Man" then "Dr. Maybe", an obvious and unfunny attempt at Dr No. My daughter and I never watched again…
Fast forward to today. Nick Cannon is still pooping all over the place. His is a Seinfeld Show-like career of doing nothing, entertaining that is. His music is fer sh#t, his stand-up comedy is fer sh#t, his radio show is fer sh#t and he is the American Idol Seacrest-type character for "America's Got Talent" , a program that showcases people with no talent so he is uniquely qualified. Mariah has spent years yo-yoing her weight like Kirsty Alley binging on crack then Krispy Kremes.
The evidence is apparent even rampant against this year's "Douchiest Celebrity Couple".
Nick Cannon and Mariah Carey are so into themselves, so full of virus that I give them the nod for Grieco and Bleeth that most represents the reprehensible:The Douchiest Celebrity Couple of 2011".
I beseech all supermarket magazines to stop talking about and photographing these two, especially with their new twins. Like a bee buzzing around your Night Train nightcap at sunset, if you ignore it will go away. They are said bees
————