Friday, December 23, 2011
Christmas Thoughts and Links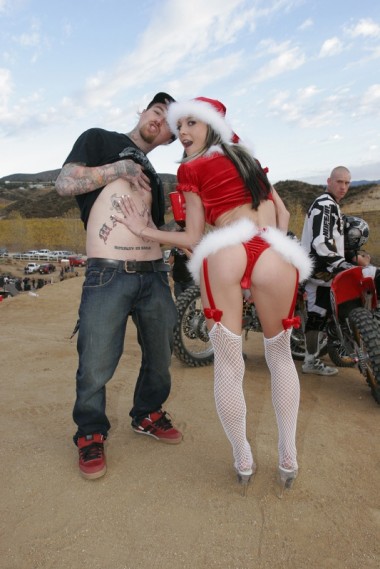 Oh, Christmas.
You come but once a year. With bad 1950s music. And tiny plug-in lights on self-righteous houses. You bring dysfunctional alcoholic WASP families together to not speak authentically, and allow people to pretend they're altruistic for a few weeks.
And you even brings HCwDB, Christmas style.
Site's gonna be on reduced posting for the next few weeks, but I'll be posting a'somethin' every day to keep you on your toes.
As to this Christmas HCwDB pic, well hot damn, we have our first entrant for the 2012 "Douchiest Pose" Douchie Award, now don't we. Or perhaps an entrant for my 2023 Guggenheim Show. Or Best Ass Pear? We shall see.
And yes, I missed the 2011 Douchie Award for Best Pear. But Best Pear will be handed out in a special New Years Douchie Award. So stay tuned.
In the meantime, enjoy your holiday linkage. It goes well with Christmas dinner and family dysfunction. And while I'm not a Christian, and therefore tend not to celebrate holidays with "Christ" in the name, some of my best friends are Christians. They're very glad to meet me. And they have stock tips. And are very polite. And enjoy alcohol.
Here's your Christmasy Links:
Your HCwDB Holiday DVD: "This ain't no Chinese menu, jagoff! I tell YOU how it's gonna be. This is pricks fix!"
Bags R' Us is on Facebook. Of course it is.
Lawyers. The new douchebags. Or perhaps the old ones.
Ice Cube brings architectural appreciation O.G. style.
Sometimes, when you're bored and living in Nigeria, it's time to just sing about vagina.
The shitfest of a website that is "Holy Taco" continues to rip off my writing style and douche-humor without so much as a link back. I can't tell which site I hate worse, Holy Taco, The Dirty, or The Chive. All are lame internet vampires that suck off the living.
Investment Banker Mike, spurned by a woman after a first date, writes her the creepiest and douchiest email of 2011.
Christmas rule: Never eat cocaine out of your brother's butt. You could die. Especially if you're Ricky Williams.
Don't look at this. I told you not to look at that.
Christmas Rule #2: Don't finger-bang a Chihuahua.
But you are not here for Chihuahua finger banging. Well, perhaps you are. But either way, you've been good. You've earned it.
Or, if you need a little more revelation in your stockings:
Mmmm… mattressy. Leave off the last "S" for suckle gnaw.
Merry something. Ho Ho HoHos.