Monday, December 5, 2011
Clearest Proof of Natural Selection: Peter Pumpin'Head and Mary Mammageddon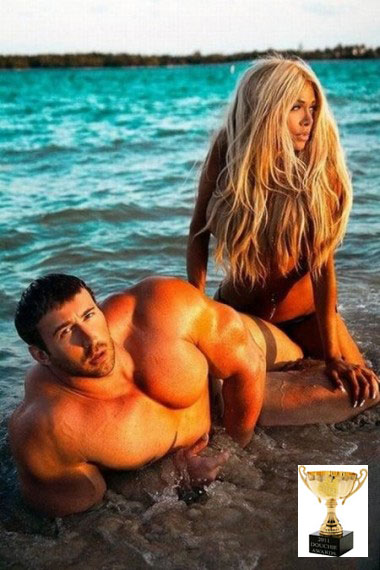 Lets hand out our first official Douchie Award, presented by long-time 'bag hunter master, the one and only DarkSock:
~~~~~~~~~~~~~~~~
Feckless Readers:  I am humbled to present to you alert readers The Clearest Proof of Natural Selection for 2011.  And by "humbled" I mean "mildly nauseated".  I offer, for your examination, Peter Pumpin'Head and his partner in genetic crime, Mary Mammageddon:
Why do these two exhibit the clearest proof of Natural Selection in the douchebag wilderness?  First, let us define exactly what "Natural Selection" is, by definition, in case there are any Tea Party members in the crowd:
"Natural selection is the non-random process by which biologic traits become either more or less pronounced in a population; it is a key mechanism of evolution."
Or, in this particular case, devolution.  The Grieco virus mutation which we fight today became pandemic in the early 90's.  In normal human populations, the emergence of genetic traits emerge over the course of centuries.  However douchebags and ho's make and break sexual alliances like soiled socks in the coin-op dryer of Fate in the Laundromat of Oblivion.  The typical douche/bleethe coupling yields prolific and non-exclusive mating sessions much like a vibrating school bus filled to capacity with stoned hypersexual bonobo apes.  You get the picture.  For these reasons, in just over a decade the highest-desired values in the mating selections of the Alpha-Douches and Yogurt-Drips have become emergent, yea, dominant in a frighteningly short time frame.  The most visibly emergent of these douche-desired physical attributes include:
Bulging "swole" muscles (male)

Bulging "swole" implants (female, and sometimes male)

Vacuous stare (both)

Shrunken quasi-Orwellian dumb-speak vocabulary (both, LULZ-OMFG)

Mass consumption of over-marketed low-quality distillates (both)

Orange-hued outer-wrap (both)

Shaved genitalia (both)

Raisinette testes (male)

Long whorish nails, smelling faintly of tobacco, free vodka and doo-doo (female)
As evidence, I present you with your 2011 Clearest Proof of Natural Selection for 2011:  The unholy trinity of Peter Pumpin'head and Mary Mammageddon (she counts as two), as they clearly exhibit the following attributes:
Miniscule brain-box set atop a mass of bovine-steroid swole meat?  CHECK!

Enormous lolling boob-steaks, engorged to balloon-squeak proportions?  CHECK!

Instinctual self-awareness when in proximity of cameras?  CHECK!

Same go-to flex-pose?  I offer this: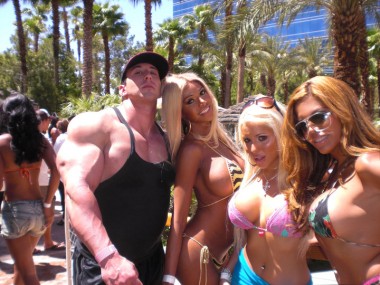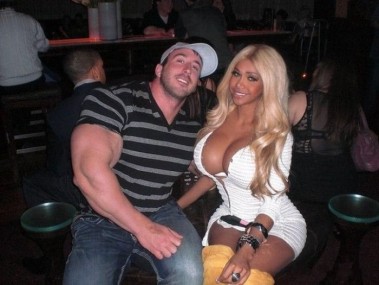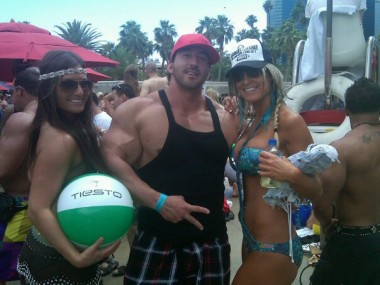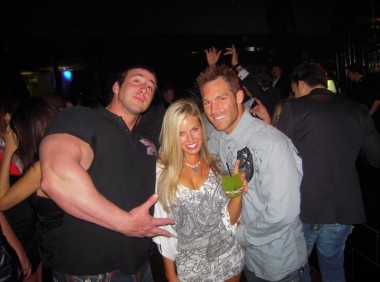 I stand by the statement I made about these two preening poon/peen pot roasts back in May during my hazy two-week reign of this site:
"Peter Pumpin'Head and Mary Mammageddon: two textbook narcissists, staring into one another, not seeing the other but rather themselves refracted off of the slick glossy sheen of their own ego; their strutting ids run amok, flexing in the funhouse mirrors of each other's thin magazine-glossy souls."
If left to continue reproducing and devolving, I expect their progeny by the year 2030 to be nothing more than a shrunken hairless penis/testes combo attached to a swollen writhing bicep, inch-worming its way into what looks like the face of an English bulldog being crushed between two meat-balloons.  Unless you want to live in a world inhabited by such Von-Goolian wet dreams, you must continue to fight the good fight.
"Oh, DarkSock, you're just being an alarmist", you say.  Well, you're wrong, ass-sausage.  Peter Pumpin'Head and Mary Mammageddon have already had an offspring, and it makes my case more eloquently that words ever could.  I present to you their Unholy Love Child, which they keep chained inside of a pole-barn, away from an unsuspecting Public's scornful view…BEHOLD WHAT DOUCHE HATH WROUGHT: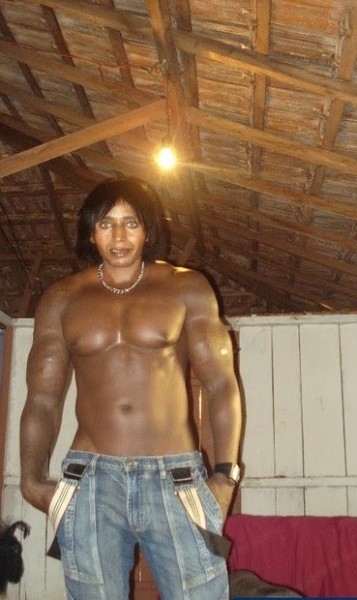 Look at it….LOOK AT IT! But take heart, my brothers and sisters, both Human and Canadian:  It's not too late.  To whip it.  Into Shape.  Shape it up; Get Straight.  Go forward, try to detect it.  It's NOT too late…to whip it.
Whip it good.
– DarkSock, esq.