Friday, December 9, 2011
Douchiest 'Bag Trend: The "Ink Dicky"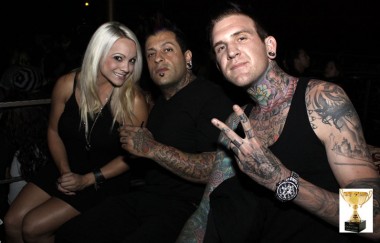 Mr. Scrotato Head hands out the award:
——
If there's one thing Douchebags aren't its original. If they were, Christian Audiger would be standing on a street corner in his own thread worn designs waiving a sign that reads "Will destroy your way of life for pretentious vodka".
Trapped in their extended adolescence, nut muggers express their individuality by aping the behaviors of those they aspire to both hang with and ultimately replace in the Vegas pool-side pecking order. But it's never enough to just copy the repulsive trends of scrotestain society. In order to achieve true individuality, each douchal signifier must be pushed to a new level of absurdity, to go, if you will, to "11" on the scale of remove-my-eyes-with-a-rusty-urine-coated-melon baller.
And so it is that the Full Circle Neck Tatt, or "Ink Dicky", is crowned 2011 Douchiest Bag Trend.
What started with the Maori arm sleeve has now been pushed so over the top that as a form of self loathing and lack of intelligence it is literally spilling over the tops of more and more Ed Hardy v-neck tee shirts.
It takes real balls to spend your last unemployment check on a tattoo that will ensure that you never qualify for unemployment again. And these guys have got them. Look close. They're tattooed on their Adams Apples.