Wednesday, December 14, 2011
Douchiest Douche-Face: Tighty-Whitey Douche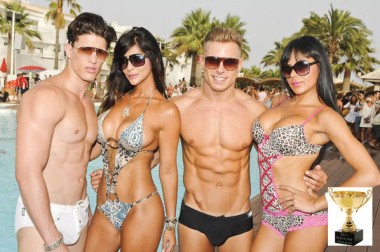 Douchey Wallnuts hands out the award:
——
Eleven months, over 50 candidates. Poo, poo everywhere and what a mighty stink… Going back to the beginning of 2011 and coming up with this list was an eye-melting, brain cell-killing experience that had me reaching for the promotional sized bottle of Maker's Mark, while I wept for the magnitude of the Societal Loss on display on these web pages.
My criteria was simple, if they appeared in a picture and had been given a nickname they were eligible. There were rare exceptions where the face was so punchable that I decided to give them a name and enter it into my Douche-Face Analyzer. I was able to whittle the list down to a manageable 6 candidates.
Which brings me to my first nominee, Tighty-Whitey Douche who appeared in a group picture in November. You can see why he made the cut.
The Herpster. He makes me hate, as do all good (bad) douche-faces. I'd love to make his head tlit permanent via a broken neck.
A. Samuels. This is a video entry, which makes his face more douchey and more frightening. Not only should A. Samuels get punched in the face, he should get stomach cancer.
Gynochin. In the monthly winner comments Dude McCrudeshoes said it best, when he recognized Gyno's "impressive body of work." Societal Loss at its best.
Too Tight Tony. He embodies all the classic symptoms of the Grieco Virus, while toiling in relative anonymity in Middle Douche-Earth. No need for any other pictures of this guy. He doesn't have to win a monthly. He represents all the one-shot, randoms on the site.
Hello Kitty Hott. Since we are equal opportunity mockers I see no reason why we shouldn't include a female nominee in this catregory. She's made many appearances, but deserves a full-on punch in the face for her douchette-face and for her taste in men.
And the winner is….
Tighty-Whitey Douche is the recipient of this year's Douchiest Douche Face Award. A face you would kill, on top of all of the de rigeur douchebag elements.
Groin Shave Reveal, bathing trunks that make him look like a total dick, bleeth that is both hot and tranny-like and a complimentary douche-bleeth couple who are borderline award-worthy in their own right.
He didn't need to make a overly "facey" face or execute a contrived "for-the-picture" expression; his face in its natural state is the epitome of douchey.
———