Wednesday, December 14, 2011
Douchiest Facial Fung: Brothabag Leon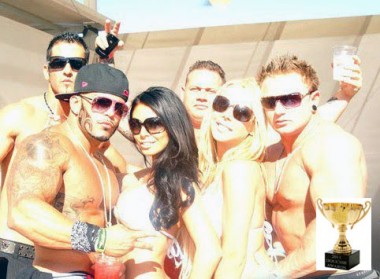 Douche Springsteen hands out the award to an old friend. And by friend, I mean squatpiddle:
——
Dorfman, I've thought long and hard about this…
Actually that's not entirely true. Choosing the "winner" of this year's Douchiest Facial Fung was easy. I started in the archives in January and found the most offensive contender so soon that I was tempted to just stop my search since I knew no one could possibly top it, but I felt it my duty to slog through the entire year. Presenting a Douchie is not to be taken lightly. Besides, I hadn't even got down to the label on my bottle of Old Grand-Dad and knew that plenty of HC would be a welcome foil to all the DB.
Calling Brothabag Leon's facial fung "peacocking" would be a disservice to peacocks. Their gaudy display of attention getting plumage is a product of nature to ensure the survival of their species. In Leon's case he goes out of his way to painstakingly shape his facial hair into shapes that wouldn't look out of place on a Georgia O'Keefe canvas just so he can rub his pee-pee against some bleeth after buying her a few $17 martinis. Whether he stands in front of the mirror with a precision sculpting implement or goes to a salon to achieve this look is anyone's guess.
In either case, it's such an affront to the evolutionary function of the beard (keeping a man's face warm while he chops wood, hunts, works the land, etc.) that he should be made to answer to a panel of judges headed by Grizzly Adams for his crimes against humanity. Shave or die, Brothabag Leon.
Runners-Up: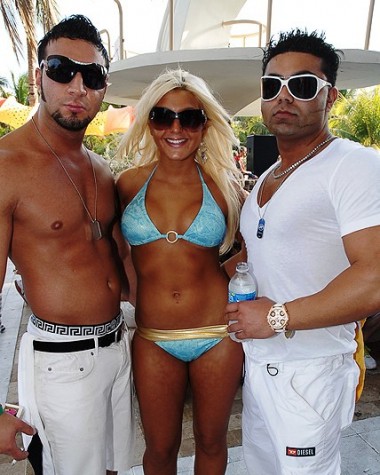 The Chernobros (8/22/11)
Not to be overlooked is the double-flush of the Chernobros. Chernobro Joe's chin-shrub is pretty bad but it's nothing we haven't seen before on these hallowed pages. Why he decided to stop shaving exactly where he did is between him and his maker.
However, Chernobro Moe's arbitrary bi-level pencil thin lines of facial hair bisecting his bloated face are truly unique and deserve some recognition. And by recognition I mean mocked so hard that he cries and shaves off those ridiculous fung pinstripes so hard that two layers of skin come off with them.
Finally, some (Dis)Honorable Mentions in the field of 2011's Douchiest Facial Fung are:
Brothabag Jesus Is Not In The Military
The Ferret
—-