Tuesday, December 13, 2011
Greatest Crisis of Modernity: The Cell Phone Bathroom Self Portrait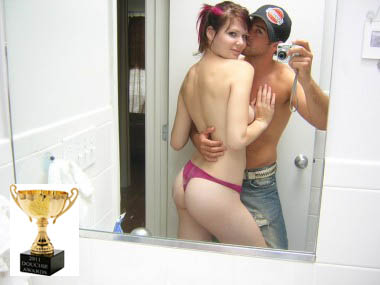 Hermit hands out the award:
——–
In earlier times, wealthy industrialists would commission talented artists to paint portraits of themselves and their families, usually in the formal parlor, and always dressed in their finery. Later, with the invention of the camera, the family portrait became more readily available to the masses. Mother, Father and the children would don their best apparel, and a local photographer would capture their image with primitive, bulky equipment. These grainy, monochrome photos were treasured heirlooms, displayed with pride over the mantle or pressed between pages of the family scrapbook.
The industrial revolution changed the young country. Factories churned out Model T's and waffle irons, the Middle Class expanded, and by the turn of The Twentieth Century Eastman Kodak introduced the Brownie camera. Low-cost photography and the concept of the "snapshot" became available to the average Joe. The family portrait became a little less formal. People would still dress in their Sunday best while Uncle Walter snapped the picture, often on the front lawn. Life was good.
Sadly at some point, an unknown, self-centered innovator turned that Brownie upon himself and took his own photo, forever changing the course of history. When that seemingly innocent flashbulb went off, the foundations of modern culture began to irreversibly crumble. At that precise moment the sun was temporarily blotted from the sky, and in the distant mountains of Peru, a baby llama, blind since birth, coughed up a bloody wad of 35 mm film and part of a tuna fish sandwich.
As technology advanced, cultural values and decency regressed in corresponding measure. From elegantly-clad ladies and stately gentlemen posing in stylish attire, we are now reduced to the spectacle of pathetic, shirtless narcissists creating digital images with hand-held devices, reflected from a filthy mirror flecked with toothpaste and zit puss. The setting is no longer the formal, tastefully furnished parlor, but the very room where they vomit, urinate and go to take a gaseous, foul-smelling dump.
Far away, in an Amsterdam museum, Van Gogh's self portrait is busily hacking off it's other ear.
——–