Tuesday, December 13, 2011
HCwDB of the Year: Bracket #3
Your third and final bracket to set next week's Finals. Make it count.
HCwDB of the Year Finalist #1: Joey Lumpcrustowitz and Kate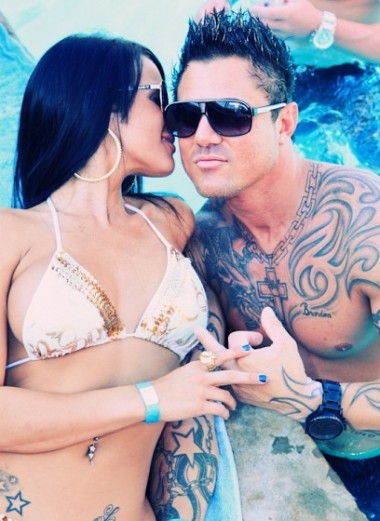 This heaping service of Vegas backwash in presence of flexi-hott Kate is well worthy of consideration for the Finals.
And lets not forget Joey Lumpcrustowitz Gives You the Finger.
That's a tag-team of pictorial uberdouche.
For classic Vegas suck, I punch a kitten.
And spit on a spastic spatula.
Because that's how I roll when filling up the text part that many don't bother to read, despite my slavish wordsmithery.
On to the next one.
HCwDB of the Year Finalist #2: The Herpster and Librarian Laura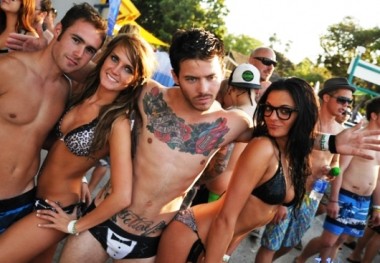 The Herpster birthed an entire subcategory of 2011 Douchery with Hot Chickery.
The Herpster.
Part Hipster.
Part Herpdouche.
Total tuxedo crotch.
For patenting douche face, douche stubble, insanely stupid chest tatt, hipster ethos, and vinyl listening Echo Park parties that make me retch just thinking about, The Herpster is all that is wrong in Odessa.
And by Odessa, I mean that's the nickname for his '92 Yugo, which he painted ironic lime green.
And let us not forget that while Librarian Laura shows terrifying signs of Bleething, the purity of Pear is award winning and gnaw.
Gnaw.
HCwDB of the Year Finalist #3: The Garglebag and Nadia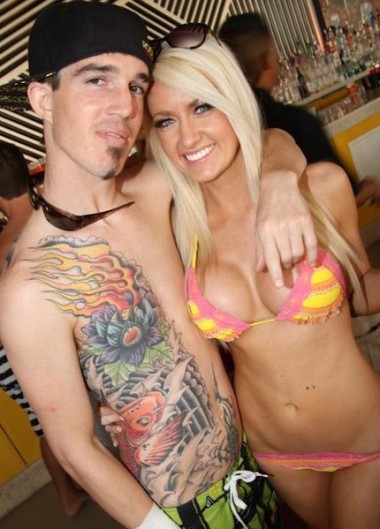 Our most recent of douchal winners, The Garglebag brings heinous nipplecentric douchetatt into play.
Then, just as Superman has Clark Kent, Garglebag has Leny Freaux, his alter-ego, and its own heaping serving of wretched douchey wretchitude.
Perhaps a long shot.
Perhaps not.
The twin pics of douchery really play with the mind and piss on the culture.
And by piss on the culture, I mean micterate on the rug.
Lebowski forever.
HCwDB of the Year Finalist #4: Poppa Squatter and Tendon Tina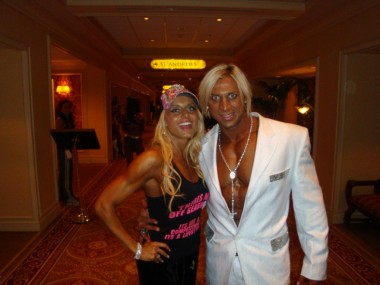 Banished almost instantly to the flushed Closet of Poo, the heinosity of Poppa Squatter and relative tastyness of Tendon Tina never really got their due in the Weekly or the Monthly.
Witness the epic run of pumped up orangosity and heinous douchery.
The initial appearance of Poppa Squatter and Tina in July.
Poppa Squatter and Tendon Tina Win at the Game of Life
The Squat and Tina Celebrate
Perhaps their most cheesecackle photo with Poppa Squatter Gettin' Jiggy with Tina
And then The Popp Squat and Tina laughing at one of our Weekly winners.
That's an epic run of rimjob douchery and poo flush spastastity.
In fact, looking back, Tina was quite the tasty morsel. And Popps could grab the Wild Card.
But will they?
Vote for our final entrant in the Yearly, as always, in the comments thread.