Monday, December 5, 2011
Hottest Girl Next Door Hott: Hottie Heather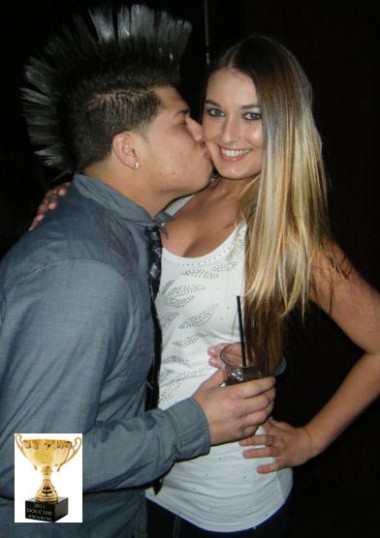 douche equis hands out the award:
——
The Hottest Girl Next Door Hott award carries with it a tremendous burden of tradition. Not because the award itself has such a long history, but because the very notion of the Girl Next Door is redolent with the aroma of Norman Rockwell, sad partings before going off to war, sundaes at the soda fountain, and necking at the drive-in.. It is an award wreathed in Americana, and as such it is appropriate that I, the house Republican, be the one to give it away.
The defining characteristics of the Girl Next Door read like a catalog of the idealized American Girl of yore. A certain innocence. The glow of health. Soft, tender skin. Long hair. Brunette (because I say so). The sense that, behind the barely perceptible Mayan Eye of Coitus, there lurks a seething erotic fervor.
And somewhere within it all the idea that yes, you, the Boy Next Door, might have a chance with her – a consummation devoutly to be wished, and indeed lingeringly longed for during languid, lonely nights of teenage male, er, introspection.
Though the general success rate of said lonely males with the Girl Next Door might reach the low teens of percent, it is those successes that a fellow looks back upon with a certain wistful pleasure; those fumbling, exciting, secret encounters that made every breath, at the time, seem to last forever, but now appear as some of the few fleeting instants of true feeling amid a life's worth of experience.
It is with a nostalgic sigh, and not in the slightest bit because she looks exactly like Katie C., whose manual manipulations provided so much that a young man needed at the time that he needed it most, that I give the award for Hottest Girl Next Door Hott to Hottie Heather. Her suave ability to ignore the revolting attentions of Mr. Hawk and give me "the look" lets me know that she really likes me – I think – and if only I could get up the courage to ask her out I just know we'd have a lot of fun together.

——