Wednesday, December 14, 2011
Most Annoying Rockerbag: Pukey Bowie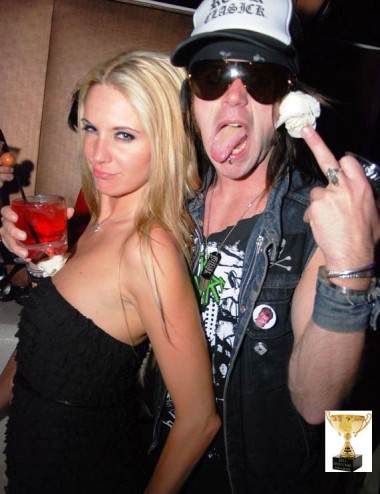 CB Popped hands out the award:
————
His hot could be a little hotter, but is there any question about the societal loss that Pukey Bowie personifies?
His douchal purity rating goes off the chart as we count the numerous signifiers; Sunglasses inside a club, skanky lip ring, hat tilt, mandanna, retro denim self styled wristband, too many bracelets, dildonic facial expression, dogtags, and the unidentifiable substance clinging to his middle finger – which of course – is flipping the bird.
I can't make out what the hat actually says, otherwise that would surely be another one.
The more I look at the blond here, the more I think her smirk reveals her own mock for the fungus that is clinging to her. The more I observe Pukey, the more nauseous I get.
Pukey – don't give us the finger as you double fist cheap vodka, or we will pull the tongue right out of your head. Furthermore, dont wear the retro David Bowie button – we severely doubt you know anything other than Ziggy Stardust, if that.
Its a tough category – Toxic Terry was in the hunt as was the hotdog water smelling Band Promoter Petey.
Both certainly pulled the hots while displaying numerous Douche signifiers, but in the end Pukey wins (loses) in a No – Brainer contest as the Most Annoying Rockerbag this year.
The picture says a thousand words, all of them negative.
—–