Friday, December 9, 2011
Most Euro Eurobag: Dieter Von Choaalsmark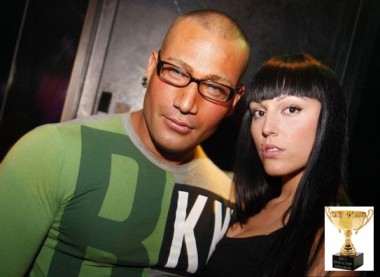 The Reverend Chad Kroeger hands out the award:
—-
Like the festering drippings of summer sausage from Angela Merkel's soiled panties while she is called again to Brussels to save the PIGS at a luncheon of ouzo-swilling octopus-eating pantywastes. Or the soul-numbing techno beat pounding at a corner pub of Chinese leather and chain wearing zombies reeking of limberger and duck confit in Marseilles.
To the bondage ghettos of Austria filled with torture machines and fisting men under the control of vaseline-weilding raven-haired doms named Gretchen feeding them dog faeces as they beg for another schnitzel enema while another Friday afternoon fills up with Vienna sausage fresh out of Seville Row business suits.
And the youth rise up against the Eurozone and austerity like a mob of ham-fisted teens at a Morissey show and enrage me with the memories of how rotten Europe is. Filled with unwashed entitleds waiting for pensions, free health care, and death.
Nietzsche wishes that Deiter Von Choaalsmark never existed and that is why he is the Most Euro Eurobag. His tight Aryan sweater with the square pseudo-intellectual glasses and earrings and that f#cking smirk fill me with rage as much as his accomplice fills my balls and make me yearn for a good spanking. And the neo-nazis rage against Zion with the vitriol of a hundred years and empty promises of post-Cold War rhetoric.
Bringin up the rear. And by rear I mean used crotchless man chaps with studs are Jan Lärggmän Watches, Sven Counts to Two, and Greasy Ramon for the greasy fail of the Euro.
——–