Thursday, December 8, 2011
Most Expensive First Date Hott: Champagne Katie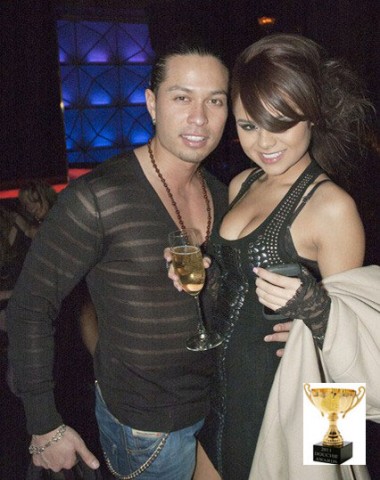 Doctor Bunsen Honeydouche hands out the 2011 Douchie Award:
——
Your mutual friend who loves to play match maker tells you that she has someone that would be perfect for you. She's gorgeous and has a great personality ("Which is it?" you think.) but she's never been able to find "the right guy". So you say "Sure, what the hell. How bad can it be?" and throw caution to the wind…
After exchanging some brief texts to get her phone number and set up the date, you give her a ring to see if she's ready. She tells you she's running 10 minutes late as you're making your way over to her place.
OK, no big deal.
I'll look good by stopping off at the flower store and get her some flowers. What woman doesn't like flowers, right? So you drop $20 on a small but non-descript arrangement.
You get to her building and the doorman lets you in. The lobby is huge and VERY clean. You ring her apartment and she tells you to come up but she's not quite ready. No big deal, you've built in some time because this has happened before. What was 10 minutes suddenly turns into an hour. She comes out and looks hotter than a solar flare. It's gonna be tight but you'll be able to make those reservations you made at that new Polynesian fusion place that everyone has been raving about lately. She takes the flowers and throws them on her kitchen counter without even so much as a sniff…
As soon as you get there she asks "Is this where we're stopping for drinks before dinner? I ate here last week and I didn't like anything". Sh!t! Time to make plan "B" on the fly.
You excuse yourself and head over to the bar and ask for the phonebook. You find THE most expensive place in town and secretly beg God that you can get in. You're put on a waiting list that's 20 deep. Screw it! Just go there and hope that a huge "tip" for the maitre' d will get you a table. Luckily you hit the ATM before going on this excursion so you assume that you're OK. You get there, announce your reservation loudly, and shake hands with the maitre' d secretly passing him $100. He snorts derisively and gently whispers "What the f@#k am I going to do with this? Double it and you can sit near the kitchen." You do and then promptly get seated at the table where the swinging doors will be hitting you for the entire meal. A waiter hands you the menus and you start to panic.
THERE ARE NO PRICES ANYWHERE ON THE GODDMAN THING!
You pull the menu up closer to your face in the hope that she didn't just see all the blood run out of your face. You take a sip of water (Is it free or is it $50 a glass???) and try to compose yourself. Just as your getting your bearings back you hear her tell the waiter, "I'll have one of these, one of these, this and I'll start with that."
Good Lord, what did she just do? The waiter approaches you and asks what you'll be having. You can't find a small salad anywhere on the menu (stupid French), realize you're screwed and just mumble "I'll have the same." "To drink?" asks Pepe. She chimes in "We'll take a bottle of this" ever so helpfully. Great. The idea of working seven other jobs is now starting to have some appeal. You surreptitiously reach for your phone under the table and go to the AMEX site. You apply for a Platinum AMEX card but have to wait 30 minutes for approval. You pat yourself on the back for your resourcefulness and quick thinking.
During dinner she yammers on and on and on about superficial things that no one cares about (Did Kim really marry for love or was it really for the money? Bieber totally couldn't have had a baby with that skank. I hope the color palette for this spring is more neutral than pastel because I look better in those. Will heels go higher or lower? BLAH BLAH BLAH…) to the point you contemplate jumping up on the table and yelling "Shut your stupid vapid mouth you inconsiderate moron! You're the reason why birth control should be mandatory for people who have no sense about anyone other than themselves!" You gobble your dinner (she doesn't even notice OR stop talking) when she says she wants dessert. Why not? Keep it coming. Your phone vibrates. You look and AMEX will give you a card with a $2000 line of credit. Will this be enough? You hope so. The bill comes and you have $5 to spare. Great googly moogly that was close. With interest you can pay it off in about 8 months. Now it is time to get out of here…
You fake a migraine and head out of the restaurant. As she's walking out the door she rips a heel off one of her shoes. Really? Now you're stuck. She wants you to carry her down to her favorite boutique so she can get another pair of shoes. You notice the bag she is carrying isn't even big enough to hold a tic tac and figure this one's on you too. So what else is new? She finds a pair of Manolo Blahniks that she's "had her eye on for a while" and makes the puppy dog eyes at you. The clerk looks expectantly at you for your card and you hand your Visa over. She squeals with delight at her new $618 pair of shoes. Sex is the furthest thing from your mind now.
You're starting to feel like a third-world country that is in the stages of a bloodless coup and inflation is rising. But wait the night isn't over. No, not by a long shot. Just before you enter the parking garage, a cab splashes her head-to-toe in gutter water. You stifle a laugh (cough cough) but she's absolutely livid. Luckily another boutique ($2500 for new dress) and a dry cleaner are right around the corner. That sting you now feel on your ass you recognize as the AMEX and VISA logos being branded to you because your cards are so f@#king hot.
You finally make it to your car and speed back to her place. You drop her off (Yeah, I had a great time. I'll call you after I get back from the trip I have to make to Botswana. Sure, we'll get together then. No problem.) You're about to curl up into the fetal position when your mutual friends calls. "So, how did it go?" she asks. She says that she can't make out what you're saying between all the sobbing and gurgling noises and to act like a man. You scream "F@#K YOU!" into the phone and then hang up.
Later you get an email from Katie@goldigger.com and you achieve total enlightenment. (Total = $5333)
Our runners up include:
The NBA… it's creeeeeppppptastic!
and Fratpud Juan Can't Believe His Luck


——