Monday, December 19, 2011
Smells Like Poo: Quoth The Raven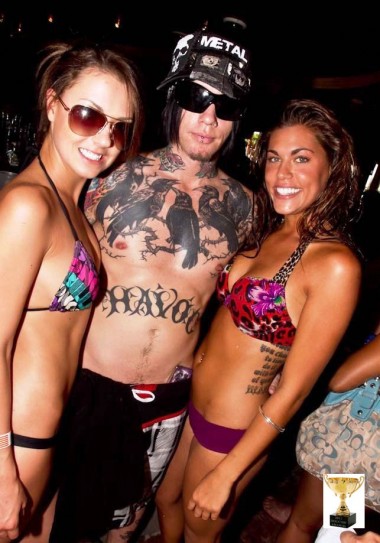 Creature hands out the 2011 Douchie Award for Smells Like Poo:
——-
by the good graces of our fearless leader & boss DB1 I am here today to bestow the dishonour of the Douchey for the chategory of Smells Like Poo… the nominees are:
from January 6 It's Shark Week! a tighty gym short wearing tattbag who appears to be throttled in technocolour, toting around his own personal skin sack of social disease…one would only hope the shark was eating it's way off this man's torso
April 14 featured Captain Lubing & Tracey Gnaw a bumbling bum pirate who apparently infects comely midshipwomen by osmosis…toss him over with the anchor!
May 6 gave us the unforgetable Choad Runner a droopy pant, undie poke, colour skin pallette, red-eyed drunken zombie douche…is he human?
and finally, from September 7 we were "treated" to Quoth the Raven a slime sheened rockerbag putz…may those birds be hungry & feast on his rotted soul!
and the winner of the 2011 Douchey in the Chategory of Smells Like Poo is… Envelope please… Bleech it's contents truly smell like an Etruscan sewer swamp on limburger ravioli night!…
Quoth the Raven!
…that steaming pyle of bird shiite….his appearance creates HAVOC!
…he smells so bad circling flys die…he smells so bad skunks cry…he smells so bad Fabreeze made a new scent "Anti-Raven"…if you kick him you must scrape him off your shoe!…get me some oxygen STAT!
——