Saturday, December 10, 2011
The Douchebaguette: Tokidoki Barbie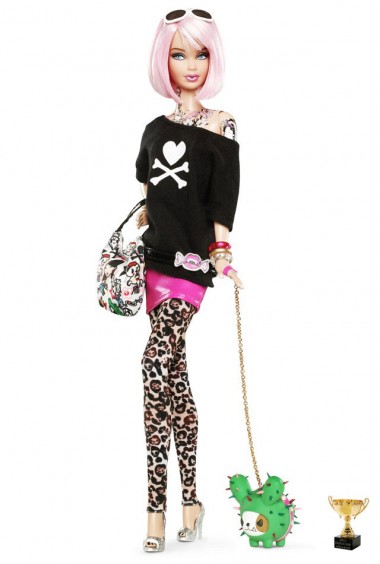 Keeping the Douchies going on this 2011 Douchie Award weekend, Mr. Scrotato Head hands out his second award of the ceremonies:
——-
Say what you will about 2011. It was many things. But one thing it was not was a year replete with douchebaguettes.
Sure, there were plenty of paid-to-pose strippers sporting duck face and wounded souls. And the taint that is over-tatting is infecting the fairer sex faster than genital warts. But for the most part we were spared the blight that is Bleeth.
I said, "for the most part".
No year is completely free of the taint that is the ruined woman, the beauty that once was, the hottie turned hurlie. Here are the best of the worst that the Boss saw fit to burden our souls and eyes with.
What red-blooded boy didn't steal his sister's Barbie doll, sneak away to the back of the garage, and with guilt and lust raging through his veins, pull down Barbie's top to see what was underneath? I always thought Barbie would get nipples before she'd get tattoos. What's next? Vajazzling her non-existent vajayjay?
For ruining what was once an enduring American icon, Mattel captures 2011's Douchebaguette, plastic hands down.
Runner Up #1: Billy Dee Willhelm and Champagne Katie
Not all bleeth come in nasty packages. No, not all bleeth are repulsive, burned out shells of once adorable young daughters whose daddies somehow managed to screw them up sometime around the 3rd grade. Some, like Champagne Katie, are all sugar, glitter, and nom-nom-nom chompy goodness on the outside. But behind the $5,000 smile and beneath the flawless "Bath and Bodyworks" pampered skin is a 102 lb. core withered and blackened by too much attention from the more greased and tatted sex.
Oh Champagne Katie, how we would have all showered you with gilded rose petals, adorned your boner-inducing body with wrappings of the finest silk, and fought naked in the gladiator pits just for the chance to see you pout those soft, plump lips in our general direction. We would have built monuments of porch meat as a testament to your beauty, crafted poem and song in homage to that which is you, which is perfection, phrases and stanzas to make the very angels in heaven weep and all the demons in hell rend their sack cloth and wail in eternal jealousy of all that is you, that is hottie perfection.
And then you went and texted us.
Runner up #2: The "Lifestyle" Takes Its Toll
Brittle blonde hair from a bottle. Too small a top. Too short a skirt. Botox lips. Smell of cheap vodka on her breath and a look that says "Do me now 'cuz in about 20 minutes I'm gonna be curled around the toilet in the ladies room". The only thing missing is her four-year-old son who's staying with grandma while mom's "works another shift". Oh, and we never even got to know her name. Honestly, what's not to like? Well, just about everything.
Runner up #3: Buddha Took a Dump
There's only so much the magnificent and resilient human body can endure before it reaches its zenith of energy, beauty, and luster, and then begins the inevitable decline into decrepitude. Roasting yourself in the sun, putting ink where ink shouldn't go, and letting a hack Venezuelan plastic surgeon go to town on your face just pushes the expiration date forward faster than working in a slaughter house and smoking four packs of bare ass camels a day. Life's doing a bad enough job on you on its own, no need to hurry it along all for the sake of another morning of "Why didn't he call me? He said he loved me! God this happens every f*cking time!"

——-