Wednesday, December 14, 2011
The John Largeman: Zen Beard Guy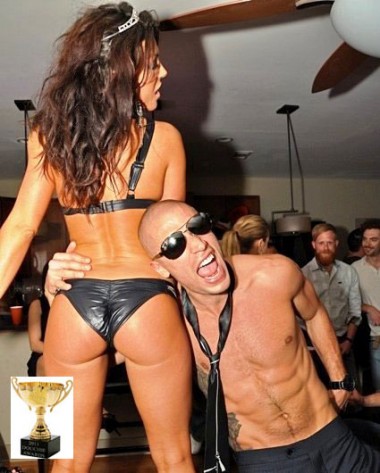 Et tu Douche? hands out the award to the ever watching Buddha that watches us all:
———
For the most part, when we mock it's primarily aimed at the main subjects in the picture. However I've noticed that some of the best comments tend to arise when it comes to persons and or objects in the background.
I've only been around for a couple of years yet in that time some of the best chuckles I've gotten have been from these background images the funniest being John Largeman So I thought why not celebrate them at the yearly and in honor of JL name the award after him?
With out further ado I submit to you the 2011 John Largeman Douchie for best person, persons or inanimate object in the background.
While Wankus is a true ass clown ruining the bachelor party for everybody, and Pearielle is taught, PtP, gluteous suckle munch the true genius in this pic is Zen Beard Guy Aka "William Macy in Redbeard disguise". Kudo's to The Dude for coming up with that moniker.
The look in Redbeards' eyes say so much. The slightly buzzed, focused lecherous intensity is awesome! He got the invite, he saved the date and planned around it and you know damn well he showed up with a wad full of money in the front pocket of his jeans that he knew he wasn't coming home with and I applaud that. We are only left to ponder what went down when it was his time to enjoy the succulence that is PtP Pearielles ass. Zen Beard guy is enough alone to win but let us not forget the poor, forgotten, lonely URC and that this won the coveted weekly.
You're probably saying to yourself but ETD? There were other posts that deserved some recognition and you'd be right. The runner-ups in no particular order are as follows:
Lil' Pepe. At first blush not much going on in this pick but it wasn't until (Hurl Scheibe) noted "Uptight white guy is" which set off one of the better meme's of the year at which point Lil' Pepe and Drunk Caroline boobal fondle were a mere afterthought. Good work (Hurl Scheibe)
Jan Lärggmän. Here DB1 give us JL's Scandinavian? doppelganger. Who among us hasn't had this look on their face when all you wanted to do was belly up to the bar, check out some sporting event on the tube, enjoy a beverage and then have to ignore the buffoonery of unnecessary euro baggery. His look of disdain speaks volumes.
The Collective Hand of the Unconscious anbd WTF Couple in Tommy-Pak. This submission had a double whammy. The facial expressions on the couple entering in the background screams "You gotta be shitting me, what have we gotten ourselves into?"
Honorable mentions: