Wednesday, December 7, 2011
The Ricky: Morty the Happy Rocker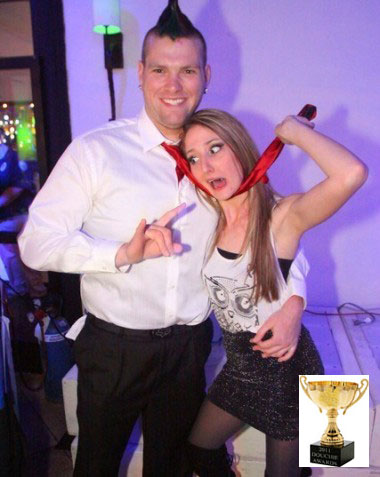 Named after our hallowed clueless dancer from way back in 2007, Ricky, The Ricky is for the everyman that boogies within us all.
Mr White hands out the award:
——
When combing through the entire year's worth of archives for this reward, I had one question in mind: "Why did I volunteer to give myself eye syphilis?" But after that, a second question presented itself: "What is the essence of The Ricky?"
To me, the essence of The Ricky is a few borderline douche traits that are not affected to attract the hott, but adopted because The Ricky actually likes them. The Ricky isn't after the appearance of cool–he does what he likes. The Ricky may be a true countercultural figure, adopting bits and pieces of douche culture and rendering them meaningless by stripping them of all intent. But yet, paradoxically, it's very likely that at some point, teachers and guidance counselors decided to "mainstream" The Ricky instead of putting him in special ed, but only by a very close vote. You want to mock, but in the end, all you can say is, "Look at that happy, goofy bastard." In that sense, perhaps all of us should try to embrace our own Inner Rickys.
That said, there was one clear choice this year: Morty the Happy Rocker, who actually graced these pages twice.
Yes, yes, he has a fauxhawk, but look into his eyes. He didn't do this to get chicks. He just thinks its bad ass. When he combs it down during the day, he becomes a respectable citizen.
At the Jiffy Lube, he won the coveted "Employee Most Likely to Remember to Actually Put New Oil in the Car" four times in a row. He takes it as a complement when people say he reminds them of Private Pyle in "Full Metal Jacket." He hopes he can take Kim on a third date so he can smooch her chastely on the cheek, in spite of the fact that Kim is clearly demonstrating that she'd be up for some erotic asphyxiation on the zeroth date.
For that, I celebrate Morty. Good on you, bro, for being a gentleman to Kim while I stole money and Percocet out of her purse.
There were no other candidates even close to Morty, in my opinion, but distant runners up include Happy Skippy and Far Left Guy from Boobies and Stupid Glasses.

——–