Monday, December 12, 2011
The Yellowtail: Morty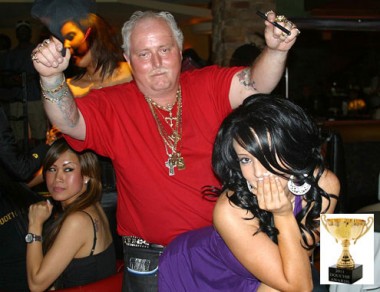 Mandouchian Candidate hands out the 2011 Douchie Award for "The Yellowtail," aka The Oldbag:
———–
In my humble opinion, in spite of fierce, grey balled competition, there is one true winner in the game of Oldbag. Morty.
We don't even have to elaborate on Morty by calling him by more than one name. Morty is kind of like when you are banging a hot Masseuse and she has super annoying kid who is always up in your business. Except he's not her kid. He's her grandpa. And he wants to hang out and bang all of his grandaughters friends, or buy them enough beer to where they will at least make out with each other while he jerks off. It doesn't get much better than Morty – it is that don't take no for an answer attitude, even when incontinence and toe fungus make his odor unbearable, that has made Morty not only the top salesman at your local CarHop, but a VIP at Peter Dragon's Massage Parlor.
Honorable Mention:
Old Man Liver, White Guy Willie, The Veiner Sausage, and Frank The RV Salesman.
——–