Tuesday, January 17, 2012
Ask DB1: Tawny Kitaen as Proto-Bleeth?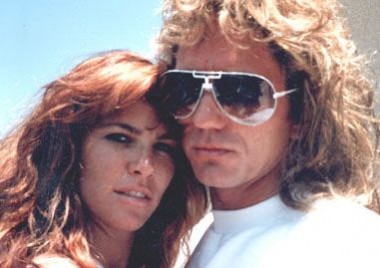 Et tu douche? writes in asking us to historically codify 80s hottie Tawny Kitaen on the historical Bleeth spectrum:
———
Dear DB1,
Your post the other day of "Nick The Richard" got me to thinking. As we all know by now Yasmin Bleeth was infected with the Grieco virus and has gone downhill and out of site as a result. I posit that Tawney Kitaen has suffered the same indignity but in a different way.
She was wholesome, smoking hot, succulent, boobage fondle hott in the movie Bachelor Party and seemed to have it going on.
Then what I believe was the beginning of her end was when she succumbed to Metalrockerbaggery. If you asked anyone who she was they would say she's the chick in that Whitsnake video and was married to the rocker/old bag David Coverdale. Before that she dated some dude in Ratt, supposedly Tommy Lee too.
So I ask ye which is more virulent, the Grieco Virus or Metalrockerbaggery?
Hell we can even debate basebaggery as she really hit the fan during her marriage to Chuck Finley. I've attached some before & after pics to help you decide.
ETD?
——–
Kitaen's Bleethery is definitely apparent, but without the epic fall from grace travesty that was Grieco/Bleeth, Kitaen is merely on the second tier of 80s Hot Chickery turned rank pooery.
Far more noteworthy a case of Metalrockerbaggery was Bobbie Brown. Although that tasty cherry pie was probably 'Baguette from the start.