Thursday, February 9, 2012
Champagne Katie For Hall of Hott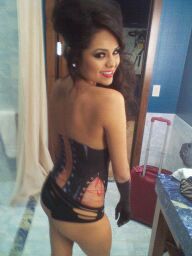 A quorum has been called.
A motion is on the floor.
And by floor, I mean succulent Champagne Katie Pear.
Has our 2011 Douchie Award Winning Most Expensive First Date Hott, the very same one who once threatened this site with legal action, earned the right to gain entrance to our hallowed Hall of Hott?
Champagne Katie has wished us a Happy New Year, she's smiled at us coquettishly, posed artistically, supported January's sponsorship with Draft Street, offered us Real World Pier Pear, and fake world airbrush, and taken us to the dream prom.
What say you?
In or out?
And by in or out I mean in and out.