Friday, February 10, 2012
Friday Haiku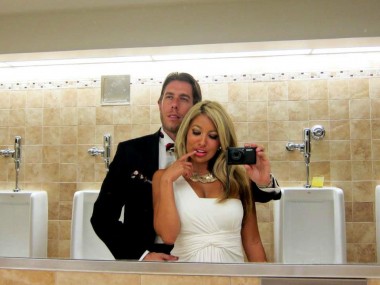 Better watch out, Girl…
Urinal Lotta Trouble.
I'd pee in her butt.
Hair from a bottle.
Clothes courtesy of the nearest
Tuxedo Junction.
— The Reverend Chad Kroeger
Blow job now finished
She wonders how big a tip
Dickhead's gonna pay
— Wedgie
Shelly contemplates
Existential dilemma;
Puke in sink or floor?
— hermit
Chad gets a pic of
latest bathroom conquest. She
ponders, "What's his name?"
— Dr. Bunsen HoneyDouche
heroin chic chick
shoots up in the wrong bathroom
douche moves in for kill
— Douche Springsteen
Sheila contemplates
pulling out her black butt plug.
Its a Tad. Too Big.
— Franklyn DealorNo Doucheifelt
I admire her
still trying to look sexy
in front of piss-holes
— Medusa Oblongata
I hate to be rude
but your bride is a gross skank
get a good lawyer
— Medusa Oblongata
I'll take "Hairstyles That
Died in the Eighties" for two
hundred, Alex, please.
— UFO Destroyers
He looks plaintively
Into the midde distance
She sees cum on shoes
— McCrude
Bathroom Rondevous
Meat Curtains on Marble Tile
Scrotal Slap Echo
— Doucheywallnuts
The Smell of Stale Balls
Is it From the Urinals?
Or is it Her Breath?
— Doucheywallnuts
Hey baby, I will
Adorn you in pearls and cake
Yes, urinal cakes
— Vin Douchal
Porcelain thrones gleam
not utilized. Both the king
and queen sit to pee.
— army (ret) douche