Friday, February 10, 2012
Friday Thoughts and Links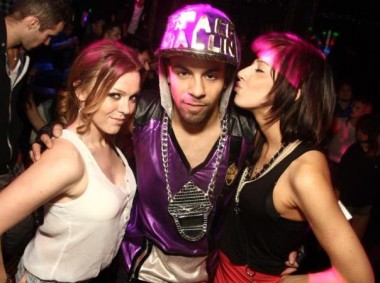 Clown Joseph mugs the barely legals.
And somewhere, in the afterlife, 2-Pac and Biggie reflect on their contributions to hiphop culture and realize the whole thing was a marketing sham and a creative fraud.
But at least it's Friday, she said, as Carolyn gives me the hallowed Mayan Eye of Coitus and my nethers twitch like caffeinated grasshoppers.
And I agreed.
Here's your links:
Your HCwDB Book Pick of the Week is also the first OWSer: "I would prefer not to."
In Orlando, a girl with no hands was barred from rides at Sea World. Her name? Katie Champagne. It's a sign. Not a hand sign though.
Nice to see my fellow Jews representin' on political issues. Now if I could only get Mila Kunis to spank me with a Torah.
No matter your political persuasion, democratic and republican 'bag hunters alike should agree that John Boehner is a huge douchebag.
Reader lilfartknocker69 is shocked to discover 'Bag Balm at his local Rite Aid. Sorry mass-marketing companies, but nothing soothes the rash of toxic pudlery.
Giorgio Loves Sonic. Giorgio gets a hearty nottadouche and goinpeace.
We all know that the Unholy Grieco is the Source Douche for the modern 'bag plague. But let us not forget that WKRP's Bailey Quarters set the template for the modern Boobie Hottie Suckle Thigh Librarian Hott. Not Semitic Hott, like my usual preference, but I'll take it.
The Holy Football Tebus likes to suckle.
But enough about the Holy Tebus. Lets get to the pear:
For buried within its curves lies Archimedes formula for moving the world.