Friday, February 24, 2012
Friday Thoughts and Links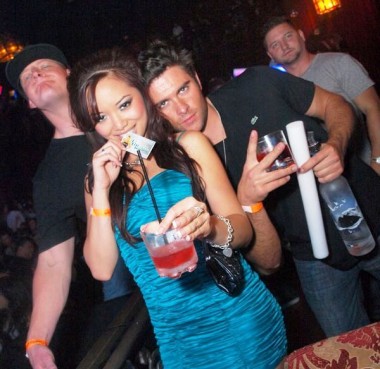 Oh mutant hand gestures for nearby cameras while Running with the Goose and when stalking party Woo girls like Kathy.
How you task me with annoyance and swelter.
How you itch my rectaculum with spectacular spectral speculum.
And, on an unrelated note, it makes me sad that the Beastie Boys are so old. "License to Ill" now refers to constipation.
Here's your links:
Your HCwDB DVD Pick of the Week: "Alright, look pal, I gotta tell you… this is a crazy business, but it's not unlike any other business. There are ground rules, and you don't just walk on to a network show without experience. Now I know it's an old, hackneyed expression, but it happens to be the truth. You've got to start at the bottom."
You know the economy's recovering when douchebags are getting into fights over models at tables in nightclubs.
On a related note, and well worth watching:
The great Steven Colbert bringing extensive 'bag mocking about that story on his show. (starts 1:45 in) "Our douchebag beat up their douchebag" for the win. My cultural influence is complete.
Love the Colbert. My cousin was Colbert's personal assistant for years and I gave him a signed copy of my book in 2008.
Bored this weekend? Here's a great photoblog of candid New York city snapshots from the 1950s.
Or how's about Mardi Gras 1938?
America: Land of Shirtless Tools With Too Much Time on their Hands.
DListed Asks: Would you hit the Grieco? If by hit you mean hit, perhaps.
The coolest three year old girl in history.
Just as Owen Wilson dreams of the 1920s Parisian Left Bank in "Midnight in Paris," I dream of early 1980s downtown New York.
But you are not here for DB1 creative fantasies of unreality. You are here for pear:
Enjoy. Chomp. Salivate. Masticate.
The weekend is upon.