Wednesday, February 15, 2012
Honorary Douchebag of the Month: Andrew Breitbart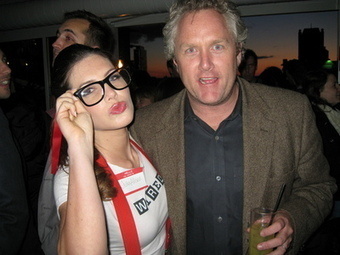 Most of you have never heard of this shreiking rhesus monkey, nor the intellectual poo he attempts to fling on a daily basis.
And while I try to keep this site apolitical ('bag hunters of all persuasions are welcome to join the collective douche mocking and hottie oggling), I realized that to call this narcissistic prancing self-hating windup toy of neurotic dysfunction and deep Freudian issues "political," would be like calling a Kardashian a "thespian."
This meandering buffoon screams for a living on the teevee, having finally found a profitable way to channel his daddy hatred. Substitute "government" for "Father who didn't love me enough" and you'll diagnostic the problem with nary a need to take an intro psych course.
His is the inchoate rage of self-hatred turned outward. A core pathology that informs so much of douchebag culture. Merely substitute fauxhawks and bling for political babble, and sex drive for vicarious power sycophantage, and you'll have this retched disgrace of yak spittle in a nutshell.
So for yipping like a castrated mule on any media outlet he can find, for his clear chronic masturbation problem and rage at the people who wouldn't date him in high school, and for clogging the collective media arteries with verbal drivel, I hearby bequeath the moron known as "Breitbart" an honorary "Douchebag of the Month."
If internet clown Matt Drudge hadn't taken pity on this solipsistic loser back in the mid 00s, a Carl's Jr. in Westwood would never have been deprived of its night manager.