Friday, February 17, 2012
Reader Mail: Hardycar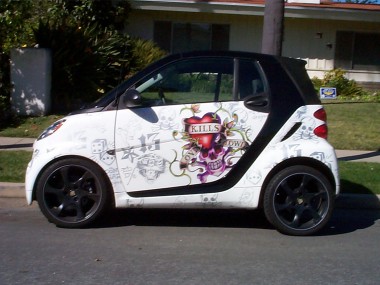 Wedgie writes in:
————–
DB1:
I snapped this photo on Friday 2/10 while visiting a client in Coronado, an island city just across the bay from downtown San Diego. This is an affront to all of mankind, but is particularly galling by its presence on this most hallowed isle. For Coronado, as all patriotic U.S. Americans know, is both the birthplace of Seal Team 1, and the current residence for Seal Teams 1,3,5 & 7.
Not having any ordnance at my immediate disposal, I did the next best thing that came to mind, and peed on the rear bumper. In honor of Darksock.
We must keep up the fight. Remember, fellow hunters, it is always darkest before dawn.
Regards,
Wedgie
———————-
It's like a castrated gonorrheal elephant nad. Shaped like a car.
Good work, Wedgie. The battle continues.