Tuesday, March 27, 2012
Ask DB1: Sports Competition and Doucheyness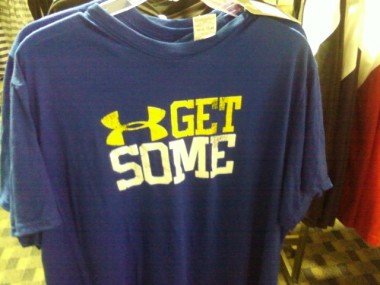 ————
Hey db1,
I come asking your view on a matter.
As you can see from the utterly retarded Under Armor shirt I've attached (fuccin' Stackhouse, man), it seems the sporting world is starting to get pretty douchey with with the idea of being competitive. So much so that it's no longer enough to say stupid shit like "Check out my swagger," it must now be printed on a t-shirt.
Perhaps so people can hate the wearer before they even speak.
I once emailed asking if saying "hater" was autodouche.
I ask the same of this situation: does this type of apparel inspire the same Ed Hardy-esque foaming-at-the-mouth?
Are even real athletes exempt?
Cheers,
Douche of Arabia
———–
Performative Leniency Rule absolutely does not cover the 'bag shirtwear. "Get Some" shirts, or any other sort of idiotic pumped-up slogan, is autobag.
So let it be written.
So let it be done.