Monday, March 19, 2012
Ed Hardy and the Bleething of a Supermodel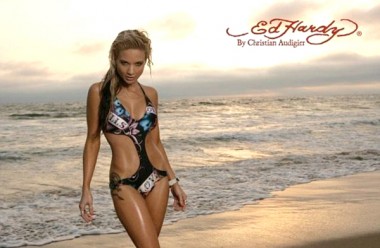 For those hotts who have not heeded the warning I outlined in my book describing the Grieco/Bleeth path, let the tragic tale of Ed Hardy supermodel Simone Farrow offer yet another reminder.
———-
An Australian swimsuit model accused of being the boss of a global drugs ring — and wanted for fleeing $150,000 bail — was arrested after almost a month on the run.
Former Penthouse Pet and Ed Hardy beach babe Simone Farrow was extradited to Sydney on Wednesday night after her arrest at a cheap hotel on the Gold Coast Highway in eastern Australia.
Accused of trafficking "ice" in bags of bath salts from a plush Hollywood high-rise, Farrow broke down and pleaded her innocence on arrival at Sydney airport.
Flanked by two federal police officers, Farrow, 37, who has at least 19 aliases and a long-lost teenage daughter, claimed she only fled interstate because "someone was trying to murder me."
Farrow has now been remanded in custody on charges which include the alleged 2009 drug operation. By skipping bail, Farrow put at risk $150,000 surety put up by a Sydney barrister and a flamboyant doctor.
—————
Hmmm… Australian barristers and flamboyant doctors. Whom has this suckle pooch been cohabiting with?
Farrow herself explains the toxic role of HCwDB cohabit in aiding her downfall:
—–
"I've been in … relationships with numerous underworld figures or whatever you want to call them and I feel that maybe they feel threatened by my situation," she told The Sunday Telegraph.
——-
Here, we call them 'bags.
Let this be a warning: Hotts who wear Ed Hardy are on the road to Bleethdom.