Friday, March 2, 2012
Friday Haiku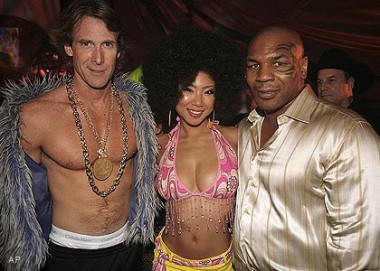 Michael Bay – King Douche
Pitches concept to Tyson:
"Mike's Wong Wife Choithes"
Her hair's gone afro
Since the gyroscope was put
In her monkey hole.
— The Reverend Chad Kroeger
Interracial date
In bizarre love triangle;
John Largeman is watching.
— Douche Springsteen
Number one salesman
At Vegas Bling convention
Wins Mike "Meet and Greet"
— Vin Douchal
Mike Tyson's next bout
Wynn's All You Can Eat Buffet
He'll be champ again
— Magnum Douche P.I.
Baybag blows shit up
Tyson bag blows career up
Douchery never ends
— Capt. James T. Douche
"To Wong Fu, With Love
Needed way more explosions!"
Cocaine-ramble-mouth.
— Douche Wayne
Mike was wife-beater,
can we hope he becomes a
douche beater as well?
— Morbo