Friday, March 30, 2012
Friday Thoughts in Links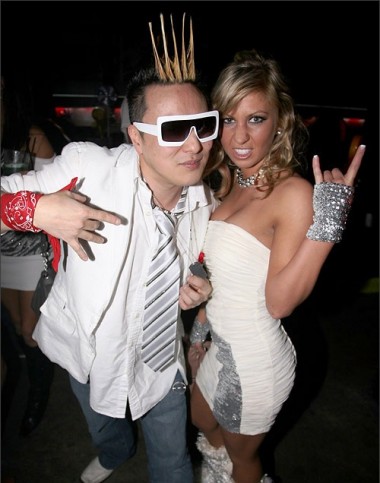 Thought I might retire the site when it turned six, but I'm still a'goin'. Can't let up… so many 'bags out there… must keep mocking…
Can't take me down, 'bags of the world!! I'm still here to mock you, and oggle your hotts!! So long as you're Bodyspraying and bad-tatting and stupid-shirting, I'll be here. To mock your sorry ass. And Pear.
Here's your links:
Your HCwDB double-pack DVD Pick of the Week: "It appears as though you forgot our French fries and a coke, fishhead."
The Bleething of England: Real Life Barbies
Remember craptastic website "The Dirty," which began as a cheap HCwDB ripoff called "Dirty Scottsdale" back in late 2006? Back then, lead doucheblogger "Nik Richie" used to email me begging to link to his site. Now he's engaged in lawsuits with lunatic cheerleaders. Don't worry "Nik," it'll all pay off sooner or later. And by pay off, I mean not pay off.
In a new movie directed by Harmony Korine, James Franco plays HCwDB Whitetrashbag "Riff Raff."
Signs Douchebaggery is entering new mutant variations in 2012: Nokia Patents a Vibrating Tattoo
Nodal douchesuck and the original "Von Douche," Tommy Something-or-Other sells his Beverly Hills Mansion.
Herpster eyewear now a legal strategy.
My contribution to the decline of western civilization takes on generational impact.
File under "Drakkar Noir:" Bag Odor makes TSA Workers Sick
World Bank nominee Jim Yong Kim rocks out, Dartmouth Style. Kinda awesome.
Speaking of Asian people, Chinese Gangster's Cell-Phone Pics Go Viral. And by viral, I mean the Asian Bird Poo.
But you are not here for Asian Bird Poo. You are here for Pear:
More than a touch Bleethy, but still uberchomp suckle spackle slap poochable.