Saturday, March 10, 2012
HCwDB of the Month: The Uberbros and Pear Alice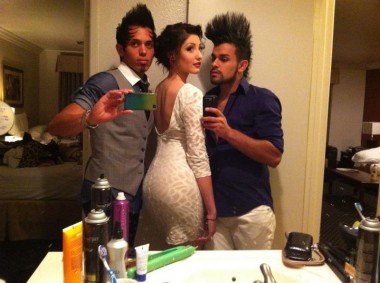 Your humble and busy narrator finally has a moment to tally up the HCwDB of the Month voting. And a close vote it t'was.
After a spirited debate, and be spirited I mean hair product, The Uberbros and Pear Alice barely managed to topple the broborgian Brobot and Curvy Kelly to take the prize and win (lose).
Lets hear from a few voters:
Doucheywallnuts: The Uberbros FTW (Loss!). They are disturbing in a new and unique way, which is tough to do in this day and age. The collection of hair products on the counter and the bleeth's ass is just icing on the cake.
Jeet Kune Douche: Uberbros and Alice – WE HAVE A WINNER!!! Alice has Teh Silky Smoove Vanilla Flavored Whipped Cream Pear Of Legend. I ABASE MYSELF TO YOU, ALICE. And the Uberbros………. need to be dipped in a vat of honey and tied down over a Fire Ant mound.
Dixierecht: Hard to believe Uberbros go out in public without getting their asses kicked for being so douchey.
Sergeant Poop: Uberbros, because, well, do I even need an explanation?
Nancy Dreuche: my vote goes to the Uberbros for the lack of teamwork and trust displayed in their pic. That shot could have been easily captured with one camera and then forwarded to the other bro allowing said bro to have the use of two functioning hands. In turn he probably would have used that freedom to apply more hair gel instead of grabbing the hott by her hample haunches and giving it to her canine style, but alas that is the way of the modern douche. All style and no sexstance.
Dr. Bunsen Honeydouche: The Uberbros and Pear Alice FTW! Why? There's quality AND quantity here. We have two, count 'em TWO douches that are equally vomitrotious in their own right next to what appears to be some sort of angel mistakenly placed between them. Now, I used to work in a grocery store many moons ago and I knows what a fine, ripe pear looks like and what we have here is sure as hell one. They, on the other hand, were what I scraped off the meat room floor every night after the butcher had been dancing in entrails and blood all day. Dichotomy they name is The Uberbros and Pear Alice.
Coming in third was The Scrufwad and Jenny Milkshake, and fourth, but with support, Lord Helmet and Vespa Hott. But for sheer hairassity and buttcurvery, it was an HCwDB douchepocalypse
Lets let Medusa Oblongata take us home
Uberbors. Because I want to uberpunch them in their ubertaints and then dive face-first into her uberass.
There it is. And your humble narrator for home cooked HoHo.