Thursday, March 22, 2012
Reader Mail: Phil is Inappropriate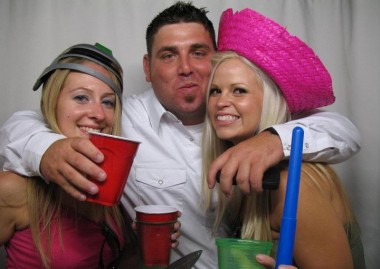 Kellen writes up with a disturbing tale of Fratbaggery:
———–
DB1,
Sandwiched between these two sexy country girls is my buddy Phil. Phil likes to hunt, fish, and drink. When he drinks whiskey, he turns into a db.
His favorite game is Aliens. This is where Phil sneaks up behind a girl, thrusts his arm between her legs, and high fives her Mons Veneris. Apparently this is to replicate the eponymous scene where the Alien rips out of the guy's chest, but nobody ever seems to get the joke but Phil.
– Kellen
————–
Uhm, I'm not sure where Phil comes from, but last I read, walking up to women and slapping them in inappropriate places is not a game called "Aliens." It is a game called "Drink-in-Face and Lawsuit."