Tuesday, April 10, 2012
Ask DB1: Condoms and Scrotums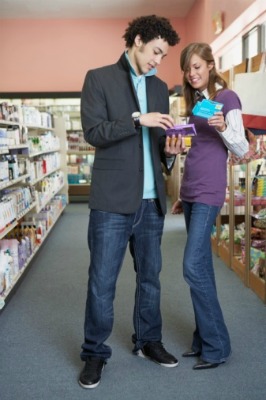 ———–
Hey DB1,
I have a dilemma… I am in a new relationship with a great woman who also hates douchebags. So, being the responsible man that I am, I went to my local drug store to pick up some protection for our intimate times.
When I was shopping, I came across this. Apparently ONE Condoms have made a line of condoms called Tantric, modeled after popular tribal tattoo designs.
Is there such thing as a douchey condom? If there is, I think this may be it. Would I be a douche for buying this product?
All the best,
Musicfanatic
———–
Douchey condoms are plentiful, and can be identified through three central characteristics:
1. The promise of "enhanced" anything (pleasure, size, stamina, etc.). Condoms are for one thing, and one thing only — preventing the XX and the XY from commingling long enough to drain your bank account for the next 25 years while complaining that you're an emotionally dysfunctional failure.
2. Idiotic naming that refers to anyone from Greek, Roman, Norse, or Native American mythology, with the exceptions of Trojans and Ramses for longevity in service of babylessness.
3. Any scented or colored anything.
All those that fall into these categories are Condombags. The rest are excused.