Friday, April 13, 2012
Friday Thoughts and Links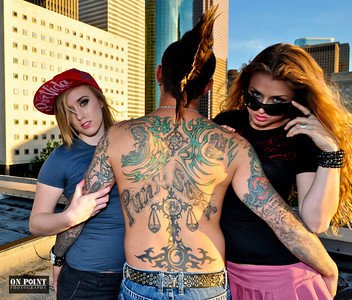 I ponder the explosion of masculine faux-piddle across this once great Nation on this Friday.
Tatts of Smellyass continue to breed like douchebunny.
Hair remains stupid.
The irony has increased, but the Grieco Virus remains.
And of the qualities and relative merits of the Semitic Boobie Hottie Suckle Thigh, I can only cry "Hosanna!" And self-flagellate with an onion.
Los Angeles has been rainy. And your humble narrator has been hard at work on new projects. Doors open. Others close.
The circle of life in the city of sushi and stupid.
Here's your links:
Your HCwDB DVD Pick of the Week: "Ain't no rats, you can be sure of that."
Beware… the homosexuals! Or, as the G.O.P. likes to call it, a 2012 election campaign ad.
The 25 Douchiest Bars in Los Angeles. Should've been twenty-six. And Barney's Beanery should absolutely not be on that list. For shame. Legacy Exemption.
Worst Album Covers of All Time. "All My Friends are Dead" by Freddy Cage for the win.
Britain's "The Daily Mail" steals a bunch of HCwDB pics for a comedy bit on tanning, doesn't give HCwDB any credits or link-backs. Yeah, yeah, I know I bitch too much.
If you've ever desired to see Peter Pumpin'head in video form teach you how to work out, now's your chance. No sign of Mary Mammageddon. Thank Tebus.
The Gator would like to sell your some supplements.
The reason your parents are entirely insane.
But you are not here for underlying psychosis of the 1960s. You are here for Pear.
A followup to our Playboy Douche Dater offers quality suckle chomp on this Friday aft'.