Friday, April 20, 2012
Friday Thoughts and Links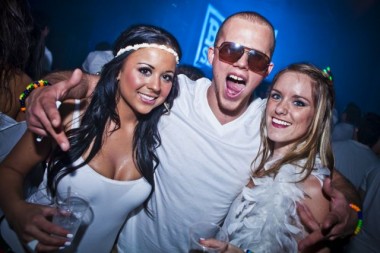 Tonguetwats.
Still out there.
Still ruining pics of raver girls who haven't learned the life lessons that will switch their major from drama to pre-med.
Glorious, glorious holy Cleavite…. praise Tebus for dying on the Football field for our sins…
Your humble narrator Tweets an electric toot across the virtual landscape of Los Angeles scrub suck.
All is well in the nooning hour.
All is well, she said.
And then I had to pay.
Here's your links:
Your HCwDB DVD Pick of the Week: "By the power of Greyskull!"
The douchiest thing you'll see all week: RoboBros.
Still not convinced Semitic Hotts are the finest of all the ethnic subdivisions of the hott hierarchies? I give you exhibit #521: Rafaeli Hott.
"The Royal Lifestyle." Smells like asschoad and petunias.
Douchey Cell-Phone Self Portraits: Now for Professional Hockey Players.
The Bleeth is a 'Bag of Trouble (vintage style)
Hangover Heaven. Cures your hangover while turning you into a douchebag.
Want to giggle at something stupid this weekend like you're twelve years old again?: Funny Restaurant Names. "Hitler's Cross"?!
Predator: The Musical. Makes life worth living.
However, the DB1's sanity hangs by a thread.
Uberblogger Andrew Sullivan muses on why men's fashion is so straight. My guess: Because it took a wrong turn at Albuquerque.
Okay, you've earned it. Here's your Pear:
But soft! It is the East! And Juliette is a Butt Globby Globb!