Monday, April 2, 2012
HCwDB of the Week: Enrique and Paid-To-Pose Tammy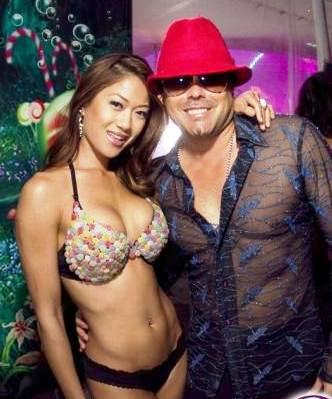 Well, kids…you know what the Blue Font means.  DarkSock's driving again.
Early this morning ('round 11:45 am…) I found the following note affixed to my front door much like Martin Luther's 95 theses attached to the church door at Wittenberg on Halloween of 1517; although I doubt Martin Luther's note was adhered using what appeared to be a strange mixture of vanilla yogurt and llama hair:
"SOCK…GOTTA GO TO LAOS…FIND MY LLAMA LLYNDA…BE BACK SOON – RUN THE SITE UNTIL I RETURN; NO NUDITY ON THE FRONT PAGE…AND SORRY FOR THE VOMIT"
I didn't see the last part until too late.  Ah well…needed new ebony socks anyway.  Let's get this boating excursion fired up!  I'll be your captain for the foreseeable future; what's the worst that could happen?  Unlike last time…
***
So, on to the Weeklies – I reckon it was pretty much between Vinnie DoublePump and Trust Fund Enrique.
While some felt Vinnie D.P. bordered on "nottadouche", alert reader Sergeant Poop made the following astute observations:
"At first glance–to an amateur–Vinnie would appear to be a nottadouche. Upon further inspection, however, one sees a man who is wearing a belt, yet his pants are still far too low below the acceptable height.   A wrist tattoo is also readily noticeable. Don't forget about the gold necklace.  And, ladies and gents, the icing on the cake–the double peace sign hand gestures."
Well-said, Sgt. Poop.  Vinnie D.P. is indeed a treacherous sleeper agent for all that reeks of Axe.   However, let's face it – in Enrique's case, mofo's got a see-through blouse on parted enough to show off his unearned dog tags; he is sporting a rojo chapeau, he's wearing very unnecessary sunglasses indoors, has what appears to be a tiny functioning anus on his chin, and most damningly, he is in objectionable proximity to Kathy's delightfully droopy dairy domes, dammit.
"CREE!  CREE!", cry the poopie birds on his gramma's blouse.  Well said, poopie birds.  On to the monthly with you, Enrique.
Agree?  Disagree?  Have any idea where DB1 is, and when he might return?  As always, waste yer keystrokes in the comments section.