Tuesday, May 1, 2012
Ask DB1: Coachella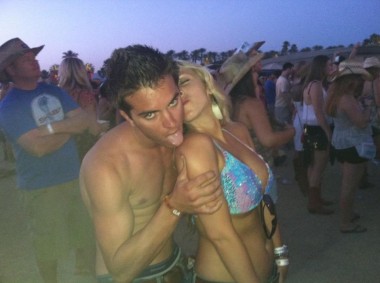 —————-
DB1 –
Two weekends ago I was visiting L.A. and we took a side trip to Palm Springs. Unfortunately, it was also the first weekend of the Coachella festival.
Needless to say, any mention of Palm Springs led to the inescapable question, "Are you going to Coachella?" with the requisite valley-girl head-cock, a la the RCA Dog.
It quickly became a running joke in our group, and we created the character "Coachella Bitch" who drove too fast ("because I'm sooooo late for Coachella"), was blonde ("the desert sun at Coachella bleached my hair") was very concerned about staying hydrated ("Do they sell bottled water at Coachella?") and couldn't believe anyone who was within 1,000 miles wasn't attending ("You mean, you're NOT going to Coachella?").
After speaking to people who actually attended, it didn't sound like a good time, mixing the worst aspects of camping with the best aspects of TSA security checks. And Tupac.
My questions:
1) Is attendance Coachella auto-douche?
2) To what evil uses will the Tupac "hologram" eventually be put? Help me, Obi-Wan Kenobi, you're my only hope.
I remain,
Douche Wayne (not at Coachella)
———–
Coachella = Autodouche. Any narcissistic exercise in which saying you went is more important than the music you're going to see is spectacle over authenticity, the heart of douche culture. When the preening D-List celebs start going, you have the assing on the puke.
Autodouche. So let it be written. So let it be done.
Give Lucas a few years, and Hologram Tupac will be the new Emperor.
Remember kids: Lucas neck. Make sure you eat enough iodine.