Friday, May 11, 2012
Friday Haiku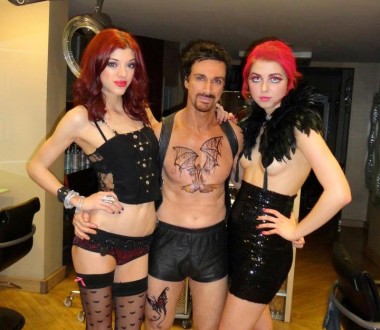 Adams Family
New Clothing Line for 'bag/bleethes:
Tickle Me Fail-More
Satanic dentist
Needs two lovely assistants
To scrub off his chest
— saulgoode42
Wings of Death dripping
with blood? No; sweaty chest made
Crayola runny.
— Douche Wayne
Hunting for vampires
Turns on hots. Van Helsing has
Bag of silver d*ldos.
— The Reverend Chad Kroeger
Cosmetology
School Grads **CUT** loose on grad night.
Eight weeks was killer!
— Franklyn DealorNo Doucheifelt
Vlad the Impaler
Has used his tool on these bleeths
It burns when he pees.
— Doucheywallnuts
How can we live in
A world where gothy Harlow
Wears McDonald's wig?
— Nancy Dreuche
Rejected actors
From Von Goolo Halloween
Start own show, "Dullards"
— Vin Douchal