Friday, May 11, 2012
Friday Thoughts and Links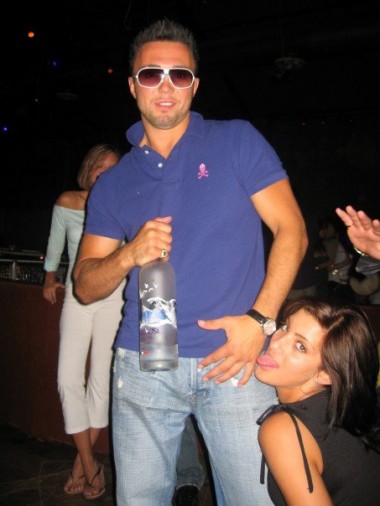 A longtime reader just sent me this pic, which he found in a folder he'd set aside for HCwDB back in the halcyon days of 2006. A classic-era douchebag runnin' with the Goose. Unironically. A hot chick corrupted by Goose Runnin'.
Oh the days when the mock was new and the "game" was still seen as literature.
But there is still so much to be done. Especially when Herpsters crowd beer ads and Ed Hardy continues its biological contagion spread across the Wal-Marts of America.
And the Wal-Marts of my soul
Here's your links:
Your HCwDB Classic Rock CD Pick of the Week: "Big Sky looks down on all the people who think they got problems… They get depressed and they hold their head in their hands and cry…
People lift up their hands and they look up to the Big Sky…
But the Big Sky is too big to sympathize."
Your humble narrator needs bail money
I hope the missing Fox Studios exec is okay and all, but what's with the orangeness?
Herpster Suck. Reason #43 I moved out of Los Feliz last year.
As a Pats fan for life, it makes me very sad to bring you this. But it is my duty and my obligation: Bradyhawk.
Speaking of doucheyhair, where do annoying herpster practitioners of "dubstep" go for hair inspiration? Llama.
Hair Abs. Over six years running this site, thousands of pics seen that cannot be unseen, but that was a first. Lets hope it's a last.
Whenever you get depressed about a world filled with insanity, remember, it's also a world that produced Sifl and Olly.
What happens when a kitchen brush has a fauxhawk? Should we grant a Plate Scouring Leniency Exemption?
But you are not here for douchey kitchen appliances. You are here for Pear. And today, you get not one but two Pear desserts:
Not enough? Then enjoy some
And if that don't satiate your pear needs, then I don't know what.