Friday, May 18, 2012
Friday Thoughts and Links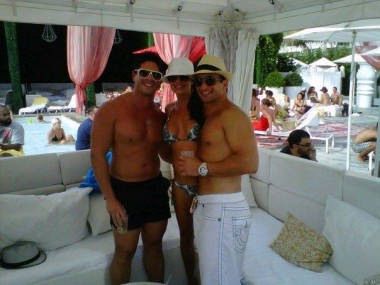 Cabanabags.
They taste just like chicken.
Like record-setting fist pumping, it leaves a stain on both asphalt and culture.
Here's your links:
Your HCwDB DVD Pick of the Week: "A strange man defecated on my sister."
Remember kids, if ya wanna help support HCwDB and you're planning on buying stuff on Amazon, click through the Amazon links on the site before navigating to your items and buying them. It don't cost nuthin', and it helps pay for the site.
Long time HCwDB nemesis, The Mayerbag, may be growdsing up after all. Nah. He's still a douche. Now a douche with botoxed vocal cords..
Douchebags at a rave killed two dolphins with a heroin substitute. No, seriously.
Remember in Swingers when Mikey complained that Tarantino bites everything from Scorsese? Turns out, Tarantino also bites things from 1976 Sonny Chiba Films.
Pop culture therapist pens article explaining why hot chicks don't like nice guys. Unwittingly explains why no one likes pop culture therapists.
The great Bill Hicks explains why your children aren't special.
Speaking of great 80s comics who died too young: Kinison.
In the land of the internet, the doucheface "Brogrammer" is King.
No, seriously. Brogrammers explained via URC. A whole new subspecies to be mocked as much as possible.
Morgan Spurlock's new documentary examines the douchebag phenomenon.
Ayn Rand Explained in One Title.
But you are not here to laugh at just how badly libertarians need to pretend they're intellectuals. You are here for Pear:
Too much? Okay, how's about
They might not beat Wednesday's Pear Party, but they's enough to get us through a Friday.