Wednesday, May 23, 2012
HCwDB of the Month: Orangudan and Vegas Kim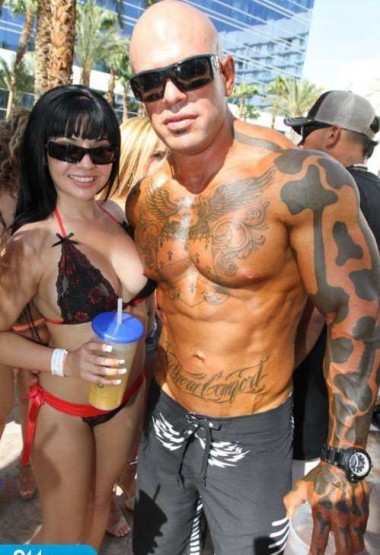 In the end, there's no beating orange 'roided tattpocalypse, whitehead, douche everything, idiocracy in presence of sexy Quartasian Vegas funbouncery.
The voters speak:
Magnum Douche P.I.: Orangudan if only for horrible tatts and the sheer size of his HGH enlarged cranium, but yet there is so much more. Vegas Kim does not appear to be fully bleethed, there is hope for her. If a couple more pictures of these two surface, I do believe they can compete for a 2012 Douchie.
I R A Darth Aggie: I scrolled down, but stopped at Orangudung. He is the clear loser. Vegas Kim is a clear hott. So are the other lovelies in this monthly, but the stench that is Orangudung is over powering.
Dude McCrudeshoes: Orangudan for teaching us that the trapezius bone is connected to the enlarged cranium bone. Remember, kids, keep your body orange and your scalp shiny white. If you don't look like a creamsicle, you are doing it wrong.
CB Popped: Orangutan is making me want to rip my eyeballs out, and Vegas chick is a sleeper cutie. Orangutan, done.
troy tempest: Orangudan FTL. Eventually, the beer and burgers will get to him, and he'll have to lay off the roids if he has any hope of keeping his undercarriage hung at a size greater than squirrel. When that happens, he'll be in with the likes of Cro Bagnon (bless his retarded soul) and then he'll get a desk job and turn to flab. Oozing into his seersucker suit, a thought will float to the top of the vomit tank that he calls his brain, and it will be "GROOOOO".
ehcuodouche: Didn't we learn anything from Barry Bonds?
Hermit: His oily skin exudes a constant trickle of horse steroids, insecurity and Bud Lite Lime, staining his nylon shorts and coagulating between his wrist and watchband. He will fight a lifetime losing battle with STD's and sagging breasts.
Charles Douchewin: The Orangudan has distorted reality, (and Kim) around himself – much like space-time – to become tough to look at, and even tougher to comprehend. Does that tattoo say compost?
It was an orangeslide, but The Bishop and Homegrown Hannah did get some support:
Et tu, Douche?: he Bishop and Homegrown Hannah's B( . )( . )B's FTW. And by for the win I mean those jugs have fun written all over them preferably with my man spackle.
Douche Springsteen: I'm a big fan of the Girl Next Door With Huge Cans thing.
John Largeman's Cheeseburger: I just noticed in the The Bishop and Homegrown Hannah pic that the sign in the background says Pearl. I bet those glorious TaTas would look good with a long dangling Pearl Necklace.
The mockworthy Aqua Vulva and A+ level hott British Sexy Sophia didn't get too many votes, nor did The Voguegina and Furry Amanda. Both are toxic HCwDB, but when competing with funbags or Orangeturd, it t'was no compete a'tall. I'm talking British. I don't know why. Lets let Capt. James T. Douche take us home:
my vote goes to the Orangudan and Vegas Kim, they give you the most douche for your buck. Radioactive/liver failure orange skin, dalmation tattoos, a fuggin' pterodactyl holding a shield, phrase tat on the gut, semi-roided up frame, aggressive posturing, a wrist watch the size of the clock from Back to The Future, Vegas pool party, refillable cup with watered down overpriced drinks, artificially inflated cans, lower lip skid mark, the list goes on like the digits of Pi.