Wednesday, May 9, 2012
Reader Mail: Blunderbus in the Ukraine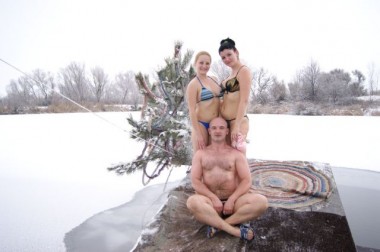 Reader Purple Punguine writes in with a tale of trolling for Ukranian Hotts on the internet:
————
db1,
I was searching through a travel website for people to meet new people for the countries that they will be visiting and I was talking to a girl until I saw this. So the question I have for you is this, its snowing outside the lake is frozen and you have 2 ukrainian hotts with the perfect licking hight, would not looking or even putting hands on them be douche?? Or for that matter would the fact that hes wearing a speedo in the winter at a frozen lake be douche?? I beg of you DB1 please tell me!!!
— Purple Punguine
————–
This email raises far more questions than it answers. Especially the "I was talking to a girl" part of it. Please do not end up in a bathtub filled with ice and missing a kidney, PP.
As to Ukranian douchebaggery in presence of Ukhottians, hey, they work with whats they got. Sad Christmas trees and an Alien Welcome Matt.
But oh how I lurve the Ukhotts. Especially their polymorphously perverse kneecaps.