Tuesday, May 22, 2012
Reader Mail: "Get Your Weekly Dose"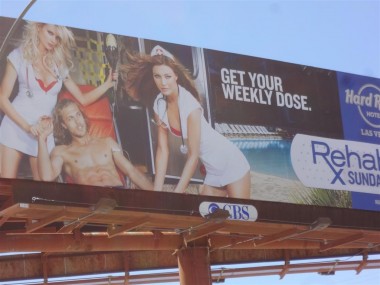 Choad the Douche Sprocket writes in with a lament from Vegas:
——————
Dear DB1:
Now that summer is nigh, Las Vegans are forced to look at this constant, invasion of douche-i-tude on virtually every billboard within a mile of the Strip.
The tag line reads "Get Your Weekly Dose." It should read: Get Your Weekly Dose of Douchebaggery, because from May 1st until the end of September, Vegas becomes the epicenter of pud, the vortex of vapidness, and the axis of affrontery to all that is thoughtful and tasteful in the world. (The stench of pool poo gets even worse in July and August — the "bargain months." Then, every low-rent, slack-jawed, knuckle dragging rube within a 500 mile radius descends on our hotels like crazed, roided out houseflies swarming to shit.)
You know these things, of course. Your legions of 'bag hunters know them too…but sometimes we feel the need to remind everyone that we are on the front lines of this battle, and that stupidity is a relentless foe.
Depressingly yours,
– Choad the Douche Sprocket

—————
"Stupidity is a Relentless Foe" should be my epitaph, good work CtDS.
However, the "Get your weekly dose" jokes just kinda write themselves.