Thursday, May 3, 2012
"Sarah Phillips," ESPN, and the HCwDB Connection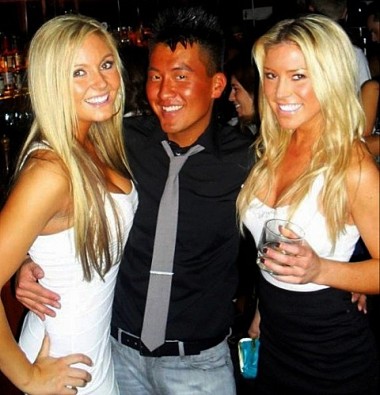 Many of you may have read yesterday about the strange story of "Sarah Phillips," a mysterious online freelance columnist for ESPN who was investigated for hiding her real identity, or something to that effect.
And here's a followup story on the strange construction of the online persona of "Sarah Phillips" from the Bleacher Report.
Sarah Phillips was subsequently let go by ESPN after the story broke.
Turns out she has a bizarre connection to HCwDB.
You see, "Sarah" was featured in one of the more hilarious pics from 2010, "Mandarin Orange," pictured here. Allegedly, "Sarah" is the hottie on the right.
Things were bopping along smoothly, until, in mid April of 2011, the following email came in to me from an email account named "Sylvia Sanchez:"
———-
Hello,
I was recently informed by my employer that my image appears on your website in three locations:
(–links–)
I never authorized my image to be used on your website. I understand the purpose of the website is for comedy, however, I work for a very strict company and this type of publicity has me on the verge of losing my job.
Please remove the images immediately. I appreciate it.
Thank you,
SP
——–
When I asked which person she was in the pic, to confirm it wasn't a prank, I got the following:
——–
I am on the far right. I am the rightful owner of this image. Whoever sent you this image stole it from my old MySpace page. It was not sent by any of the 3 of us in the image—if someone claimed to be one of us, then I would like their contact information and I will follow up legally with them.
(–links–)
Please remove the images. I don't want to make this a legal battle for no reason.
Thanks.
—————
This was followed by various hysterical legal threats and three more followups over the next two days, until I finally cropped her out of the pic. I'm only posting it again since it's already up at DeadSpin.
Here was the initial post with the edited pic (without "SP") now in place. Here was Mandarin Orange competing for the 2010 Douchie Award for Orangest Orange (also with the pic replaced by the edited version). And here's another hilarious pic of Mandarin Orange for no reason other than he's really, really orange.
Not sure what to make of any of this, but for those investigating the bizarre online journey of one "Sarah Phillips," this should make an interesting contribution to the conspiracy theory timeline.