Friday, June 8, 2012
Friday Haiku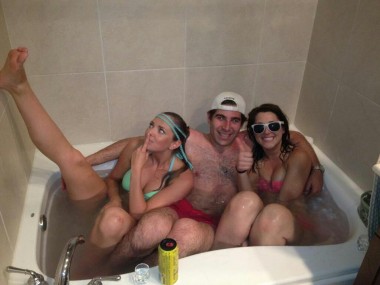 It's douche/bleethe gumbo!
But it's missing something though…
Toss in a toaster!
~~~
"I love Jacuzzis!"
Thought John, unaware of Jan's
Savage flatulence
Fetid bath water
Reeks of taco farts and shame
I hope he got laid
— Et Tu Douche?
A threesome sours
When poor anal hygiene fouls
The water and mood.
— Capt. James T. Douche
Bo Derrick on left
Not named after star. Oil rig
Is her deal. Leaves spills.
— The Reverend Chad Kroeger
Hey! That's no bathtub!
That's Andre's big-ass toilet!
Now give 'er a flush!
— Franklyn DealorNo Doucheifelt
Dysentary is
Always more fun when shared with
Those real close to you.
— The Reverend Chad Kroeger
She has her leg up
Since the tub stopper was put
In her M****y Hole
— Doucheywallnuts
John forces a grin
Trying to hold anus tight
Corn bath for the Bleeths!
— Capt. James T. Douche
Anal Leakage meme
reverberates on this thread
Pass the Olestra
— SonnyChibaChoad
The smiles will soon
Fade away to psychosis
When bath salts kick in.
— Capt. James T. Douche
Time to call plumber
Sewage pipes backed up again
Draino can't fix this
— Charles Nelson Douchely