Friday, June 15, 2012
Friday Thoughts and Links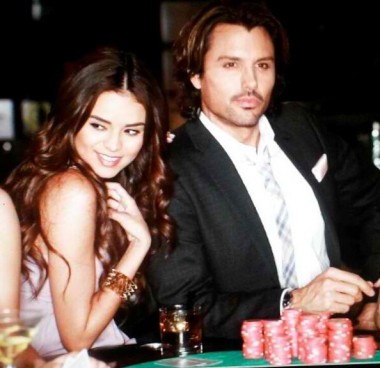 When Champagne Katie plays poker with low-rent Andy Garciabag, the moon is in the seventh house music, and Jupiter aligns with Bruno Mars, then you will know that Friday Thoughts and Links are here.
Doing some site upgrades this week, including adding a personal rant blog for your humble narrator to vent on things not directly related to hottie/douchey dialectics.
Am otherwise plodding along with my strange Hollywood career, while peep-lusting at the Hollywood Yoga Hotts through giant yoga windows on Venture from betweenst ferns and gullys.
Yoga. Where privileged white people go to perform Zen masquerade for others as a spiritual band-aid covering profound and existential lack.
Here's your links:
Your HCwDB DVD Pick of the Week: "When you got an all-out prizefight, you wait until the fight is over, one guy is left standing. And that's how you know who won. "
Some scrotebaggy writer defends Pretentious Herspter Foodie Douchebaggery. Uses the word "artisanal" many times. Fails.
Samantha Bee and the great Daily Show report on Douche Fever in Wisconsin.
Many items from the pop culture dustbin known as the 1980s have aged into moldy gouda. But Peter Gabriel's Biko remains as potent, and as brilliant, as ever. One of the greatest songs ever written.
"That's a clown question, bro."
The most important academic competition in Europe since Hoyle didn't share Fowler's Nobel Prize for Physics in 1983: Best Pear of Holland. Mmm… Nordic, Aryan, Ubermenschen Pear.
An eagle-eyed reader caught this news headline about an Axe Bodyspray Thief. Closeup of the Thief: What you think.
Remember that Asian Hott and Uberdouchey Rocker Shitestain who were famous or something? Yeah, me neither. They broke up.
Skinny Girl Cocktails. Teaching Hot Chicks to "Wooo!" with primal mating call. Which would be good, if not for douchal attraction.
But you are not here for cocktails. You are here for Pear.
1980s Pleather Office Furniture Pear
Pear is tactile. Pear is true.