Thursday, June 21, 2012
Giuseppe's Thousand Yard Stare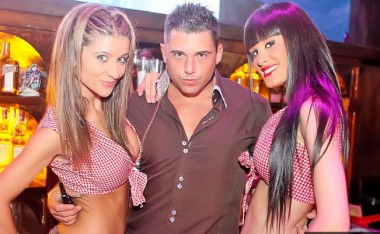 If I'm feeling generous, I'mma go with a notta and a goinpeace for Giuseppe, even if the double-button thing is vaguely 'baggy.
But I'm posting this pic for Shana and Lilly's matching cloth tops. They may not be up in the single malt level of hottchickery, but, as Henry George once wrote in Progress and Poverty, "Boobs."
And Shana's tickle pooch is slobber gnaw.
Yeah, I said "tickle pooch is slobber gnaw." What are you gonna do about it, Mrs. O'leary? Circle it in red pen? Give me a "D"?? I haven't been in your class in years! Bwahahahaha!