Friday, July 6, 2012
Friday Thoughts and Links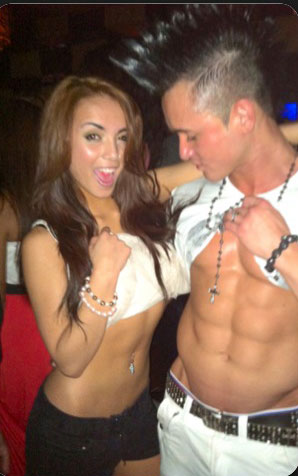 Ab Reveal in Presence of SluttyHott.
Still out there.
Still taking a ferret dump on the collected works of Shakespeare.
Happy Post-4th to all the 'bag hunters who made it with me through the bumpy site upgrades. This place has always been held together with spit, twine, and bodyspray, so bear with.
Lucky Punkass is almost active, and that'll give me a place to rant about other things beyond the hottie/douchey mock. But otherwise, HCwDB is HCwDB. Let us carry onward until dawn with a 1/2 a HoHo for sustenance.
Here's your links:
In honor of the once-great-now-exploited Comicon, of which the DB1 will most assuredly not be attending, here's your HCwDB Nerd Toy of the Week: "Well, you can't rule the world in hiding.You've got to come out onto the balcony sometimes and wave a tentacle, if you'll pardon the expression."
Tentatively, the site seems to be working again. Cross your fingers, and have some champagne.
And some Champagne Katie. Even if she is still dating the oldbags.
I'm not normally attracted to Nordic Blonde Hotts, but when I am she's Patsy Kensit in 1990. And Liz Hurley ain't so bad neither.
Bro V. Douchebag at the Major League Baseball All-Star Game. I wish I'd come up with this joke first. Oh wait, I did.
Semitic Hottie Bar Rafaeli is now a hottie 'bag hunter. When the models turn, so does the battle. What's she mocking? This clown.
But you are not hear for soccer clown. You are here for Pear.
Pear submissions have been unusually high lately, and I'm not sure why. Summer Pear Fever? Anyways, here's a tri-sampling of the latest:
For the melonious lovers among us:
And for the Star Wars geeks, the greatness that is…
Awwww yeeee. Thass what I'se talkin' about, yo! (said in my best Lucas voice) Don't say I never did nothin' for ya.